Arriving in Vietnam, I flew over the Mekong Delta. It was amazing to see it from the air. Even though we flew it lasted for ages until there were no more water arms and rivers passing any more…
HANOI
Hanoi sounds like this: modobyyy, modobyyyy, dudududududuuuuuuu, modobyyyy, dudududuuuu, modobyyyyy (=motorbike) – in the middle of sticky smog and people wearing masks on their modobiiiees. I didn't find traffic as scaring as everybody had announced me, but rather funny: you don't want to imagine how many things Vietnames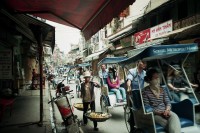 e people are able to carry on 1 modobyyy: a family of 4 people, shopping for one month plus a dog bound at the very end of the shopping is no problem. Or a washing machine – easy! The town is full of modobiiees, almost no cars except for some taxis. The traffic is some kind of crazy, but if you just go with the flow, no problem. If you feel like you will never be able to cross this street, just go, they will consider you. Life is taking place in the streets. In the old town, street kitchens everywhere where you can have a very cheap and nice noodle soup with locals, sitting on mini-chairs and mini-tables they must have imported from Ikea's children's paradise. Female hawkers carrying pineapples, bananas etc. and every street is centre for its own little business like handicraft, linen, children's toys…markets where you can buy everything you didn't know yet that it is eatable…
I went to discover the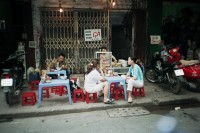 town walking as usually, which is the best thing to do. But basically, you can do Hanoi in one day because the best thing to see is just the atmosphere and the urban life itself. Chill out with bia hoi Ha Noi at the central urban lake, quite nice.
You might consider a historic day seeing Ho Chi Minh mummy, which is a strange feeling. You are walked through in a queue and see him from every side. This lasts about 3 minutes, but is very breathtaking. You can see where he lived and worked, his garage etc. Very interesting, and also the war museum was quite interesting I found.
SAPA
I took the night train to Lao Cai in the Vietnamese mountains (Alps) arriving at 5.30 in the morning, took the bus to Sapa where I found my guide that introduced me to two more people, a girl from New Zealand and a guy from England, with whom I would be spending the next two days trekking. I was kind of surprised, we had the possibility to have a shower and got breakfast, I hadn't expected so much luxury…
Started trekking straight away through the mountains passing many little huts from local tribes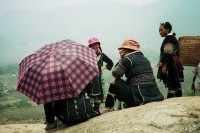 that are all wearing many-coloured clothes…I wondered that we saw other groups for lunch but not while hiking, and our tour guide (tiny many-coloured 21 year old girl) explained that we were about to do the more difficult parts because we were quite sporty. Indeed, I would never have gone where we went to, often, it just was no way, but climbing through rice fields, over stones and rivers, a buffalo on your left, wild pigs with their babies on your right.
These tribes don't produce milk although they have buffalos etc. Reason: well, easy, the milk is for the baby animals! I asked our guide why some rice fields where full of water and some completely try. She explained and asked me back: and what about your rice in Germany, how do you cultivate it? Hmmm, well. Economic basics: try to explain the exchange rate between EUR and Vietnam Dong by using trade milk and rice prices…(-:
After arriving in our typical hut where we would be sleeping on a thin mattress on the floor, we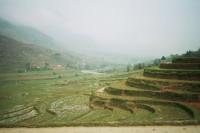 went to the river and had the best refreshing bath ever in our underwear – as we had not brought bikinis – and chilled out afterwards with Tiger beer and the best Garlic chips I have ever eaten before. Nice local food for dinner. And shower and a toilet, too much luxury…in the evening played cards like the Vietnamese game Ten Linh, which is apparently a game that constantly changes rules so that Vietnamese girls win. Tried Vietnamese rice wine, the girl from New Zealand thought: there is only one thing worse: CD-cleaner…
Next day was even better; we went deeper in the mountains. After rain, slippery everywhere, I ended up being completely muddy refreshing myself under the next waterfalls clothes and shoes included because they needed to be washed. Changing landscapes from rain forest to some panorama that could have been somewhere in Switzerland. Pure nature and such a nice air after sticky Hanoi.
In the evening, another group stayed in our new home stay: a Czech couple and a Basque couple. Before getting to know each other, I had a refreshing bath again in the river between big stones and then in the hot springs. As one of my hobbies while travelling is to estimate where people come from by listening to their English accents or dialects, I explained to the girl from New Zealand that I thought the couple was Spanish. The guy heard that and shouted: no, not Spanish,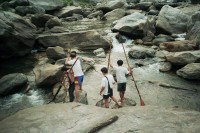 Basque! I didn't understand, I said, but you just spoke Spanish! He said, yes we are from Spain, but not Spanish, we are Basque! Okay, I understood, he was from Basque country in the North of Spain/South of France. The NZ girl didn't quite get it and asked: what is the difference between being from Spain and being Spanish? He replied: well, we don't want to be Spanish! We laughed about it and had quite interesting conversations that evening.
I noticed myself as having become demanding in the meantime, we just had a water tap in the wall and no shower, and I asked: no shower, just this? And then thought: well, that's okay, I actually hadn't expected to have any shower. So it was just spring water that day, I'm sure that was good for my skin…(-:
Had a very hard day of trekking the last day in plain sun and came back to Sapa by jeep. My feet full of blisters and bloody, but happy. Strolling a bit through Sapa village and markets and drove back to Hanoi by night train. Next morning direction Halong Bay.
HALONG BAY – touristy experiences
After return from Sapa on the Chinese frontier, headed for Halong Bay immediately, passing green rice fields again, but flat ones, not terrace shaped like the ones in Sa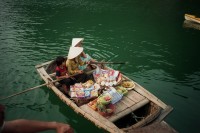 pa. Halong Bay is a labyrinth of 1.600 wooded mountain-islands, 600 of which do only have a name. Spent one night on the boat, one at Cat Ba Island. Very relaxing chilling on deck, chatting with a French and a Swedish-Norwegian couple in "Frenglish", swimming kiosks (sampans) around us, almost got lost in the labyrinth when kayaking. We were almost alone among 1785 other tourists in 569 other boats. Even though I booked a tour because it was incredibly cheap considering the accommodations, food and entrances you get, I reckon, it would just not have been possible to make my way as a traveller and not as a tourist, just bloody everyone goes there…
Attention: many tourists are brought to Cat Ba Island doing some trekking but not entering Cat Ba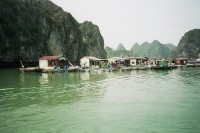 National Park as indicated on the programme, so be careful: if you are not asked your ticket, you are probably anywhere but in the national park! Don't book Vietnam Open Tours as operator.
Took a taxi to the airport to fly to Hue, and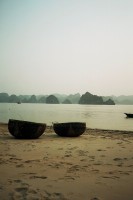 although fixing the price in advance, the taxi driver started the taximeter. I showed him that I was not willing to pay more than the fixed price. Arriving at the airport, the taximeter showed roughly USD 15 instead of USD 10 as fixed. He stopped in front of a policeman telling him something. I remembered the receipt I had requested at the hotel reception which included the taxi fare of USD 10 when arriving and showed it to the policeman including the cash I was willing to pay. The policeman behaved neutral and did not do anything. So I gave the cash to the taxi driver very determined showing him that I wanted my backpack immediately. He gave it to me and took the money. Puh. I'm sure by stopping in front of the policeman he just wanted to intimidate me, but I guess that didn't work out…;-)
HUE – imperial and rural experiences
Flew to Hue in Central Vietnam and decided to try a guesthouse this time and not a hotel any more. Basically, the difference between guesthouses and hotels is that guesthouses have nicer rooms for cheaper rates and the showers are kind of self-efficient. There is no extra bath or shower tub but only a shower hose and you stand on bottom level more o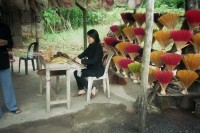 r less closed to the toilet and washbowl. So you automatically clean the whole bath room when having a shower. Although the minibus driver tried to convince us of diverse other hotels on the way, got a 4 USD-room in a guesthouse recommended by Lonely Planet, which was more than okay for that money. And the manager more than nice, he really wanted to help. Or how Vietnamese people would put it: very carrying staff…(-: That evening, a Swiss guy told me his life. He got stock in Hue because he had fallen in love with a Vietnamese woman and now wants to leave Switzerland.
Next day, eventually took a modoby including driver as things to visit are very wide-spread in Hue. Visited bunkers, pagodas, emperors' tombs, the old imperial town and fortress, assisted a monk ceremony, went to a very old quarter which is very poor now but how you would imagine Vietnam before tourism arrived, passing hundreds of house boats on the river and in the canals, cute houses in the rain forest in the periphery – if your idea of Vietnam has got something to do with lotus flowers, many-coloured lampions, ding-dong-music, you will find it in Hue: many-coloured streets, calm and easy-going life, peaceful, much more relaxed than Hanoi or Halong Bay.
CHINA BEACH / MARBLE MOUNTAINS – war experiences
Took the bus through the mountains – Hai Van Pass / Wolkenpass – direction Da Nang. Passing all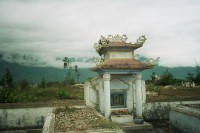 the water, it is sometimes hard to know if it is the sea, a huge lake, a large river or just hundreds of flooded rice fields. Behind the mountains: sun! Everyone got out of the bus in Da Nang or stayed until Hoi An. Except for me – jumped out behind the Marble Mountains somewhere besides highway N1 in the middle of nowhere. There was just a little ice-cream modoby which I asked for the way for a guesthouse which was supposed to be near the beach. The girl showed me 2 palm trees down the street. I went there, and indeed, there were about 10 houses down a street to the sea. And "Hoa's Place" which I was looking for. "Hoa's Place" is a veeery relaxed family-led guesthouse, self-service in the restaurant that belongs to the guesthouse. The Marble Mountains don't seem to be very impressive: temples, pagodas, grottos in the mountains. But being aware what had happened here many years ago, this place where I stayed turned out to be fraught with history. The biggest grotto served as military hospital during the war. I discovered some bunkers walking behind the beach through the dunes, behind a ghost village which was invisible from the beach, walked through the old houses, found half set of teeth on the ground – and found it a very good idea to return to the guesthouse. While having wonderful fish with lemon, an army of men in green uniforms shouted commandos in front of a communistic-style house – a police school right behind never-e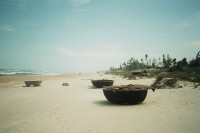 nding China Beach (you know from war-films) where over 30 years ago Americans invaded Vietnam and GIs had a rest from the war drinking, surfing, having sex – strange scenery for a police school. Lying on the beach, tried to imagine war bomber in the air with Da Nang airport being the most frequented one during war times. You cannot find this place in any tourist guide, but it was a place I really liked – for its history and today's beach and warmth of the people there. Had mango shake with yoghurt, family-style dinner with all the other travellers on a long table, chatting afterwards, one girl took the guitar from the wall…
HOI AN – shopping experiences
After mango pancake for breakfast, I went to Hoi An by modoby. Hoi An is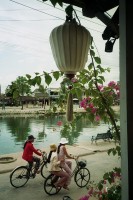 quite a touristy town, but nice anyway, I really liked this old little fishermen's town. Met the French couple from Halong Bay in the streets and had nice croissant and cafe with them – yes, Vietnamese people do have the French recipe for real French croissants! And ended up with a much higher backpack: due to the tailer-made clothes I had bought, my backpack was now too high – even for Vietnamese modoby drivers…
DALAT – home-style rural experiences
Next day 9 hours train to Nha Trang watching Vietnamese TV: I was the only white person between only Vietnamese people. The little girl in front of me didn't stop watching me (did you know that Vietnamese count their age from inception?). 4 hours in a local bus with only Vietnamese to Dalat listening to Vietnamese CD. Again very nice family-led guesthouse.
VIETNAMESE PEOPLE
I must say that the nicest people I found were on the country side, and they become nicer and nicer the more I drive to the South. In Dalat, I sat – again as only white person – in a street kitchen, two women sat down at the same table and were so happy to practice English that they bought typical Vietnamese food for me to try. Don't wanna know what it was. They were very nice and didn't even smack!
Vietnamese people are very natural people. Reset your social education to zero and you are ready for Vietnam. They don't only smack, they naturally snuffle and snot. They have no natural discretion not to watch when it might be unpleasant for someone, they just watch. If they feel like touching, they touch. The guy behind me in the bus put always naturally one of his naked feet either on my rucksack or my arm. With other words: Vietnamese have no fear of contact. If there is something very important like someone thinks you should absolutely buy his stuff, they pick their finger into your arm and say "you!" If you are far away and don't react it comes up to "youyouyouyou!!!" – easy for them to pronounce: in the same way they have integrated French into their syllable-driven language like ca fe = cafe = coffee, ga = garre = train station, so-co-la = chocolat = chocolate.
MUI NE – the beach and kite-surfing experience
Uups, she did it again…yes I was really lucky with the weather for kite-surfing! Not only was there wind during a no-wind-season, the wind was even great for non-professionals, so I made good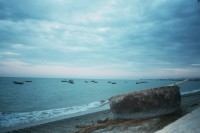 progresses. In fact I thought I would have forgotten more since a year ago in El Yaque. Compared to Isla Margarita, Kite-surfing is followed by beach-massage in Vietnam. Besides, lived from watermelon juice, fresh coconuts and spicy seafood (the food gets more and more spicy the further South I went in Vietnam, in the North they cook rather Chinese style, in the centre refined), acted as a kite-lesson-translator for a German couple, played billiard with 3 English people the first evening and went to the beach bar with the German couple the second night. Bought fake Billabong shorts (on two of them they had put at least a fake name, too: Buddabong) and had a chat with one of the boat people, while wandering around, who had to escape from Vietnam after the war and is now living in Canada.
The last day, after last kite lessons in the morning, hoped on the bus to Saigon…
SAIGON – the non-expected experience
I was staying in the house of a lovely, elderly, grey-haired lady. Don't ask me how I got there, she talked to me on the street, and I don't know why I reacted (I'm usually quite reserved when travelling on my own), but I did. And it's fantastic, have to go through her house to get to my room, it's much cosier.
Who told me that Saigon is chaotic? All wrong!!! Arriving in Saigon, I spontaneously fell in love with this town. Nothing seemed to be true about what I had heard before. This is a stunning, modern, cosmopolitan town, traffic half as much as expected, I find it much less than in Hanoi, but that might be because the streets are more spacious. Less tooting, and in Vietnam, they toot aaaalll the time and everywhere. Either they want to point out that there is an indispensable "modoby!" for you, or they just wanna say: "I'm on the road, so take care, I won't brake", or it's because they just haven't tooted for 1 minute any more. At least they don't accelerate when you are about to cross the street as Italians preferably do. Less smoggy than in Hanoi, less "modobyyy!!!" (enough though), prices seem to be more alright than further North, probably because they are more used to tourists, so I don't have to bargain aaalll the time and take care that they don't trick me – although I love bargaining in general (but in the North you MUST compare prices and bargain when appropriate, without bargaining, I would easily have spent double). Also you get fresh chop sticks approaching the South (in the North you are using those that great-grandfather Long or Tung already used to eat with). Went to the hairdresser straight after arriving: cut (did a really good job) + shampoo (including 15 minutes massage) + manicure 7 Euros!! Apart from me, there were 3 German guys (I guess they were expats, I didn't like them particularly, so I pretended not to understand their language) chatting like women at the hairdresser! Is this the expat style of guy evenings in Vietnam? Hmmm…
CU CHI – war experience again
Went to the war tunnels of Cu Chi, which is a huge labyrinth of tunnels in the bush reaching from just behind Saigon up to the Cambodian border. Impressive, scaring, calming down…we went down into these tiny tunnels, and even though they had been enlarged especially for Western bums, it was small and no light at all and sticky – you shouldn't go in there if you suffer from claustrophobia. People were allowed to shoot with M14's which gave a strange ambiance to the place. You can also still see the bomb craters. Ate the root "casaba" (Manioc) dipped in a mixture of salt, sugar and peanuts. Good! That's what people used to eat while living in these tunnels for weeks. Afterwards war museum in Saigon (horrible, but very good) and Reunification Palace (had a free guided tour on my own with a very nice Vietnamese girl), so a day of history. Dinner and party with 2 Australians, 2 Swedish, 1 Swiss.
MEKONG DELTA – the Asian Venice-experience
…called "9 Drago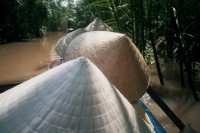 ns" in Vietnamese. This is kind of a rural Venice with coconut palms in tropical climate. Only in this place they produce more rice than consumed in Vietnam (and that's a lot) because they have 3 crops a year instead of 2 as usual. Maaany canals where we cruised with boats that became smaller and smaller the less we were in the group, so it was the best decision to book 2 days (1 day-tourists obviously disappear after half a day, 3 days is too long, though). On the way, people here and there shampooing themselves in the river – clothes included – again Vietnamese efficiency. Slept in a bamboo house,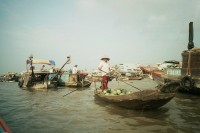 and the way to get there was even more interesting. Just a bit rat poo-poo on the bed, but that's alright. Had elephant ear fish (called like that because of its movements) for dinner that was rolled into rice-paper with salad, cucumber and rice noodles. Delicious! Chatted with 1 Australian and 1 English. The Vietnamese guy at whose house we stayed joint us. If Vietnamese people don't possess anything, they have at least a TV: Vietnamese films on TV remind me of Bollywood films. Next day went to the floating markets which was really great. T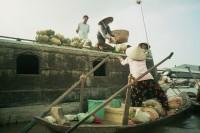 he ones that know the floating markets in Bangkok said it was brilliant because no touristy boats at all selling souvenirs and just local and authentic, so I think it was THE time to go there! On their boats, all the things they are selling are hanging on a bamboo stick on top of the boat, like in a shop-window. Had Vietnamese style snake for lunch, came back to Saigon, last foot + body massage (max. 7 USD for 1.5 hours), last spicy seafood, end of my holidays in Vietnam. Sniff. Took the local bus no. 152 to the airport for 0.20 Eurocents. Backpacks are treated as an extra person. Only Vietnamese. They watched me, I watched them. What else could we do?
____________________________________________
For a slideshow of the trip, click the image
____________________________________________