Sabaidee (Lao) and sua s'dei (Khmer)!
Back on the route, my flight (actually 4 flights) to Laos took around 40 hours, much longer than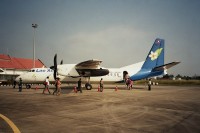 expected. Spontaneously had to buy a visa in Vietnam because one of the flights was from Saigon to Hanoi and I didn't count it as staying in Vietnam. But it was good at the end, only USD 25, much less than if I had bought it in Germany. In Hanoi, the flight to the Lao town of Luang Prabang was cancelled due to lack of interest; we would have been only 2 passengers. So I was put into a hotel for the rest of the day, together with an Australian traveller. We had to take a tiny "Lao Airlines" machine instead of "Vietnam Airlines", very adventures with colourful interior, in the evening.
LUANG PRABANG
Luckily arrived save in Luang Prabang in the North of Laos and was able to gather a first impression of the town which is imbedded within two rivers, one of them being the Mekong. I spontaneously fell in love with the village and didn't want to go to bed although I hadn't slept properly for 3 nights. Lampions, candles everywhere, people playing the guitar, many rastas and bearded travellers, it has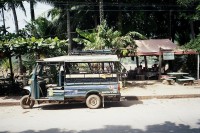 something of a hippy town and is just very laid-back. It is unbelievably peaceful, people are very nice and discrete, not as annoying as in Vietnam (comparing now retrospectively). I felt very save here, and having had a look-around, I think I will be doing many things completely on my own here. Good and genuine tours do rarely exist, so it will be more of adventure, but with less risk. Might go to the mountain tribes by boat the next days for trekking. I had my first confrontation with a strange animal; it looked like a centipede, but huge and long like an eel with thousand feet. Had Beer Lao near the river before going to bed. Next day, for lunch, first impression of Lao food: had a Lao salad, which is western-style green salad and spinach with tomatoes and eggs, but with a sweet mint dressing. And Lao wine, which is pink rice wine which tastes like Redbull. T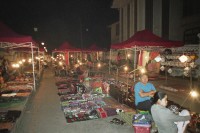 he country is not developed at all, the only ATM in whole Laos seems to be in the capital of Vientiane. Thank God I bought USD, with the dollar being so cheap. Will see how far it will take me. (-:
If there is any, this is set to be THE monk town, although these orange dressed people were about everywhere during this travel. Lots of temples. Tried grilled fish on a stick from the street market for the first time, and it was delicious. Think it was Mekong fish. That evening, they celebrated the end of the rainy season. Huge ceremony with lots of orange monks! The night market is great to buy presents; you won't find them this cheap or at all again anywhere in Laos, so buy here!
NONG KHIAW
A jungle vill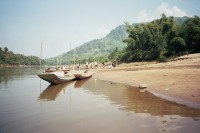 age with basically nothing to do. I took a slow boat from Luang Prabang to get there. Don't book in advance with any agent, just go there in the morning and hop on it. Like most means of transport in Laos, it goes only once a day in the morning. On our way, we stopped, charging some Lao people with pigs, boxes and their grandma. They got off in different jungle villages on our way along the river to Nong Khiaw. We stopped in some of these villages to go to the loo and were able to have a quick look at how they live in the rainforest. First experience with typical Lao toilets: French style, no flush, just a water basin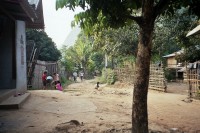 with a dipper, no toilet paper, they usually use their hand and water, that's why you often find mini-showers in the toilets. So the old rule I've been relying on applies here even more: Never go without your own toilet paper roll! My room was equipped with a simple mattress in a bamboo bungalow. Lao beds are very hard. In this village, electricity only until 10 p.m., nature is shouting, cocks are very active all night long. Way back to Luang Prabang on an overloaded pick-up-truck. Concerning me, only my bum hurt on these trucks, but many suffered from hurting backs.
VANG VIENG
Scenic landscape surrounded by mountains. All the backpackers half sit, half lie in one direction watching "Friends" in ALL the pubs and restaurants. A special menu in the restaurants is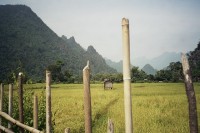 available: joint 2 USD, weed cocktail, opium tea, happy pizza (with marihuana), happy chocolate brownie, magic mushrooms. You can find happy pizza in most places in Laos and Cambodia. Fun thing to do in Vang Vieng is tubing, it's so much fun. Lots of things like kayaking to do in Vang Vieng. In the afternoon, I hired a bicycle and drove to the Blue Lagoon for a fantastic swim after a high speed 8 km drive before sunset. Met two Italian girls from the North of Italy and spent the rest of the day with them driving back, having an appero Beerlao on a bamboo house in the river and after a Lao massage in my guesthouse a nice dinner without happy pizza. The guesthouse was great: old Lao style house with good food, massages of all kind, chill out area, hammocks everywhere, open-air shower.
VIENTIANE
Went there partly by pick-up truck, Lao people jumping on and off all the time, and 17 km by kayak. Very nice trip. The jungle we kayaked through was toilet-paper-covered due to lower water level than in the rainy season. We had a delicious lunch, grilled sticks, on rocks besides the river and the chance to jump from a 10 meter high rock, which I did. Traffic in Vientiane is not worth mentioning although it's the capital, compared to other Asian towns. Went around the town by bicycle but nevertheless missed a horn. There are traffic lights, compared to Hanoi or Saigon, but that's probably the only thing more developed in Laos than anywhere else in Asia. First you don't like Vientiane, then Lao charm and nice French bakeries might make you change your mind. Arriving late, I had a good choice of shit-holes to stay, so I took the cheapest one. Went out with the Austrian couple I had met on the kayak tour which resulted in a little hangover the next day. After organizing myself booking a flight with many-coloured "Lao Airlines" and a sleeping bus with real beds in a dorm-like bus with space for at least 25 people, I had a wonderful French breakfast, randomly meeting the Dutch guy from the kayak tour and later again the Austrian couple several times – Vientiane is more of a village than a capital. After sightseeing by bicycle I went to a wooden house in the middle of some jungle in the outskirts of Vientiane for the best Lao herbs sauna and massage ever. Relaxed enough for the night in the sleeping bus heading to Pakse in the South of Laos.
4000 ISLANDS IN THE MEKONG – DON DET ISLAND
Arriving in the morning, managed to put all the backpackers on one pick-up-truck to bring us to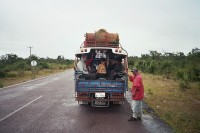 the other bus stop to take busses in the South of Pakse. Hopped on another pick-up-truck to Ban Nakasang (no official tickets, you have to negotiate) with four other people that wanted to go to the same island in the middle of the Mekong. On our way, I had a stick with crispy grilled grasshoppers. From Ban Nakasang, very small wooden Lao boat (not even a slow boat) to Don Det Island. Again jungle experience with basically nothing but nice food (but all the time no "fiss" although it was in the middle of so much water), a cock in the middle of change of voice and many impressive waterfalls. Shared a wooden bungalow over the Mekong , hammock included, with an Austrian girl, next to two German guys, and we spent two nights in this village community including pigs, chicken, cows, frogs, mostly chilling. Papaya salad is not orange, but more like a spicy coal salad, very delicious!
BOLAVEN PLATEAU
Back to Pakse went for a circuit in the Bolaven Plateau to see more waterfalls and nice jungle nature with more chilly temperatures and sometimes smells like Sardinia or Greece. Spend one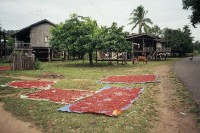 night in Tat Lo and one night at Tat Fane waterfall. Often, you basically stand somewhere besides a road, which is actually no road, stopping a pick-up-truck and hopping on it in the middle of 25 Lao people or more who where already hanging around and sitting on top of the truck. In Sekong, there were no rooms available any more due to groups looking for old mines. I hired a motorbike to discover the area. Was impressed by a 75 years old man going through Laos for 2 months by bicycle. Wasn't really looking forward to go to Cambodia now because I liked Lao people so much and expected Cambodian people to be more like the Vietnamese, whom I now find more aggressive, comparing them to the two neighbouring countries.
PHNOM PENH
Flew into Cambodia to the capital of Phnom Penh and was very positively surprised by people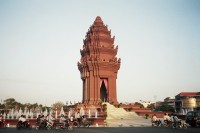 being almost as nice, warm and welcoming as Lao people. First guesthouse was full, the secondone was non-existing, but a very nice British lady jumped out of the house and gave us some advices – and then even a ride in her car to a very nice guesthouse to stay. I had met a Dutch couple in the plane with whom I made my way to that guesthouse and spent the rest of the evening with them talking. Was surprised about this other person in the bathroom suddenly, realizing that this was the first time I saw myself in a mirror for more than a week.
SIHANOUKVILLE – beach side
Went there by bus and managed to make my way to a guesthouse in the very last corner of the beach with no direct road connection – had to walk over the beach being a backpack-sandwich the last meters. Before, I h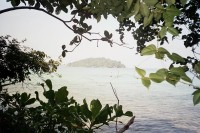 ad to convince the motorbike-driver that this is the perfect place for me to be, although he tried to do everything to bring me to other places, telling me that that place was dirty, no beach etc. It was finally the best place to stay, and made myself the pleasure to sleep in a very nice bamboo bungalow on the beach – and had "sea breezes" all the time (a cocktail available in only this guesthouse, very recommendable). Chill, relax, wonderful spicy grilled squid and barracuda…spent the rest of the day and the next day with a German guy. We went to Bamboo Island with completely deserted beach – you have to walk through the jungle to the other side of the island. Only in the rainy season, there are Cobras in the jungle. (-;
PHOM PENH
Back in Phnom Penh, hired a motorbike with driver to bring me to the killing fields, which are the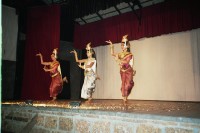 mass tombs of the Red Khmer, and S-21, the old Red Khmer prison. The Dutch couple was still in the same guesthouse and about to leave Phnom Penh the same day as me. In the evening I went to the theatre to see Apsara dance, which is not only this typical temple dance of Angkor, but also dances showing the every day live of rice farmers, ethic minority people in the North etc. Really enjoyed. Before and later on enjoyed the party in town because of Independence Day.
SIEM REAP/ANGKOR
Took the speedboat via the Tonle Sap River and Lake from Phnom Penh to Siem Reap, arriving along floating villages and mangroves and then a tuk-tuk to bring me to the Prince Mekong Villa, a very nice guesthouse with very individual advices on bicycle and tuk-tuk tours, free laundry, free breakfast, free bicycle, very social family-style atmosphere and one of the service guys called "Sri", which mean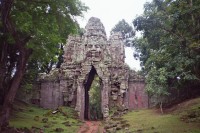 s "girl". In the guesthouse, there is also the "possibility to grill yourself", as indicated on the menu. Spontaneously shared the room with a Belgium girl and also spent the 2 days in Angkor seeing all the temples with her by tuk-tuk and bicycle. Big family meeting close to going back home: also the Dutch guy from the kayak tour in Laos stayed in the guesthouse, and the second evening, the Austrian girl was sitting on the big table, with whom I had shared the room in the 4000 islands in Laos. And the professional Spanish clown we had met when having diner on the 4000 islands on a big round table ordering everything for everyone to try.
We liked very much the far away jungle temple Banteay Srei. The bicycle tour was fantastic, we woke up at 4 a.m. to see the sunrise in the sunset temple Phnom Bakheng – with not a single other person there except for us. Also recommendable is a trip on top of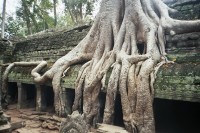 the town wall around Angkor Thom which nobody knows – that's why it is a path away from the touristy track as well. As well as the Ta Nei, a temple in the middle of the jungle. You get all these advices from the Swiss owner of the backpacker. Such a day can be really long, even with nice and long pauses. And my bum!!!!! These were no mountain bikes, just bikes!
Angkor Wat is reeeaaaaly impressive, wow. Due to hurting feet and bums, a tuk-tuk-driver was able to convince us to put our bikes on the tuk-tuk, bring them home and go all the way to the Roluos Group. You might hesitate if you wanna see another temple after a day full of temples, but the Roluos Group is really different again, we liked it a lot.
BATTAMBANG
Spectacular bo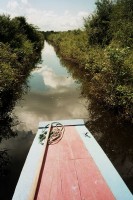 at trip by slow boat to Battambang through deep mangroves, leaving just enough space for the boat. Around Battambang very nice picturesque and peaceful landscape. In the afternoon, went to some other temple, Wat Banan, and took the bamboo train from one village to the next. The bamboo train is basically a raft with 4 wheels on not very smoothly linked tracks. That's why it's a very loud bang-bang train.
SIEM REAP
Back by boat, went to the very far away jungle temple of Beng Melea by motorbike, which I didn't like particularly, but most people do. In the evening, night flight back home to Germany.
I liked Laos and Cambodia a lot, and comparing it to Vietnam, I find the people much friendlier, more welcoming, peaceful and honest – following the principles of Buddhism (I would have left my wallet on the table for half an hour being sure it would still be there when coming back), better backpacking, more mixed up with locals, better food (great food!!!). Before the trip I wasn't really happy I was going on holidays, because there was actually nothing really to look forward to. In Vietnam you know that there are "things" to see.
Apart from Angkor, there are not real "things" to see and look forward to in Laos and Cambodia, it's the experience of the country, the people, the very relaxed and laid-back atmosphere. The journey is the reward. Resume: I don't feel like going back to Vietnam because I "have seen" it, but would love to go back to Laos and Cambodia because of the people and the atmosphere. Also these were my most communicative backpacking holidays so far. I often travelled with someone for a couple of days or spontaneously shared a room. I hardly remember any evening alone, usually sitting together with others talking or undertaking something. I must say that I feel that travelling has become really easy, even though Laos was the real backpacker experience with the worst roads and means of transportation you can imagine. So you travelled really mixed up with the locals what was lots of fun. You just tried to move on to some other place as they did, so no separation of tourist and local transportation.
____________________________________________
For a picturesque slideshow of Laos, click the image
____________________________________________
For a slideshow of Cambodia, click this image
____________________________________________