…including: 10 reasons why you should go to Australia at winter start and although there is world cup in Germany. Have fun!
G'Day mates and Bula (Fijian for Hi)!
BRISBANE
My first backpacker after 20 hours of net flight (including time shift)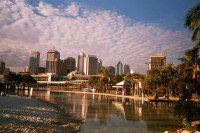 was horrible. I arrived in the night, welcomed by a rather used lady with her teeth besides her bed. In the bed, I was rather sitting than lying, and the people were very young, always pissed and stoned. But I had some good party anyway and discovered why Brisbane is set to be the best party town in Australia. Would it deserve its reputation? The town itself was nice: nice skyline, but too modern for my taste, nothing historical. But you shouldn't really expect that in Australia. This is at least what I thought at the time…you will see, just keep on reading…
FIJI
I went to Fiji for a week, and that was some kind of what you would probably call a dream holiday. The flight with Virgin Blue was the best ever, so funny. The staff head presented himself as "Bob who used to be a builder" and presented the life stories of all the crew members afterwards. "If you've got questions about duty free shopping, food and beverages onboard or love live, don't hesitate to contact one of our crew members". When showing how to use the breathing mask, "stop laughing, put the mask on you nose..",
really so funny…
First, I went to some lonely islands in the Yasawa group at the end of the world in the middle of the Pacific Ocean, 4.5 hours away from the main island by catamaran. On the way, you already felt like stranded in Paradise as it was island hopping from one lonely island to the next. Ten minutes after arriving, everyone wondered what we'll be doing in paradise, some had booked 2×6 days…there is really nothing to do in paradise. Electricity only from 6-10 p.m., no phone, no internet, drinking rain water, eating only what was available on the island, like potatoes and pumpkins. And we all came from travelling so didn't really need to relax so much. I wasn't able to snorkel or so because of a temporary eye disease. So hanging around in the hammock doing nothing. I wasn't even able to write postcards because: no postcards in paradise (-:…I understand now why Adam and Eve finally created the whole world population! There was really nothing else to do in paradise! Just there was no Adam! /-:
Went to the church, which was open air under coconut palms, lasted 2 hours, and was like a Fijian gospel party. I really enjoyed it; it was much more fun, celebrating, not as serious and dramatic as in Europe, it really made you feel happy… And went to the "Blue Lagoon" where the so named film with Brooke Shields has been filmed. But that's just another beach, they are all like that. On my way back to the main island I decided to party a bit on the party island "Beachcomber Island" for a night, next to "Treasury Island" and "Bounty Island". One of these very tiny islands you can walk around in 10 minutes. Very nice people, good wine, good conversations. Then I spent a night in the mountains of the main island, that was almost the best, had a mud volcano bath, felt soooo relaxed afterwards… Another day in Nadi for shopping and back home, I mean to Sydney…
SYDNEY
I stayed at one of these East Coast beaches, Coogee, the little brother of famous Bondi beach, really nice there, great backpacker accommodation in a girls dorm, lovely. Again, like in Brisbane, only walked the whole time – no public transport – to discover the town. Favourite places are Th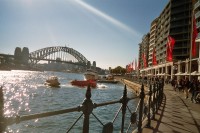 e Rocks and Kings Cross. Went to see modern dance in the famous opera house you all know, to the markets on Sunday. Made a cliff walk from Bondi via Bronte to Coogee, lovely, too, soooo many joggers there, my world! On Sunday, I went to the Blue Mountains, and as I am a forest girl (-: and have lived throughout my whole life in a huuuuuge forest, I just felt at home and happy in this amazing nature, the air was so clear, and the Blue Mountains just wow! That was the best I have seen since I have arrived in Australia. On Monday, went to the Sydney Aquarium and out to the ocean to watch humpback whales! Fascinating!
MELBOURNE
Next direction Melbourne by train through the outback or rather still bush, and I loved it: all these little Victorian style stations, just so pretty, and landscapes with just nothing anywhere. Made a trip along the Great Ocean Road. Didn't expect a lot and thought: it's just a street along the sea/beach. But it isn't. After every curve, nature changed. Again, nature fascinated me in Australia, as it did already in the Blue Mountains when I was hiking/trekking/bush-walking, however you want to call it. Not only is it so diverse, it makes completely strange voices…in the Blue Mountains it seemed as if the whole valley was shouting…besides, I saw wild Koalas hanging in the trees and wild red parrots. Good music o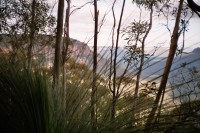 n the road made the feeling perfect. On my last day, I went to the hospital early and the doc told me that my eye had finally healed! What a relief, 1 day before going to the outback tour!!!! I was so happy. Went to St. Kilda near Melbourne and celebrated this with a breakfast on the beach with sea view, including a glass of champagne after my self-chosen no-party-and-no-alc-treatment for the last couple of weeks. St. Kilda is lovely: plenty of Spanish, Italian fancy foods stores and cafes under palms along Acland Street, a nice market on the beach esplanade. Took my Bill Bryson book and was reading the rest of the afternoon on the beach (I hadn't been allowed to read since eye disease had started), finishing in a wine bar for sunset.
ADELAIDE
Adelaide was just a quickie, unfortunately, because I liked it a lot. For the first time for ages, I had booked a proper hotel from some Qantas credits I had left. But I felt so alone in the room and hotel, no people around, even not another bed…I mean, it doesn't have to be bed no. 52 in a 84 mixed beds dorm like the one in Beachcomber Island in Fiji, but I'm so used to having others around me all the time now…well I made it, decided to treat myself with a beauty session to make sure I was appetizing enough for the wild animals waiting for me when camping in the outback on my way up to Alice Springs. Adelaide is much more spacious than the other towns I've been to, it takes more time to walk around the blocks, but it is lovely, green and has got a proper European style pedestrian zone!
OUTBACK
The next day, tour guide Matthew picked me up very early with my trekking and hiking rucksacks (with the one on my back and the other one in front of my belly, I must have looked like a sandwich on two feet) and the best week of my Aussie time was about to begin. We were only a small group, 4 Irish Sheila's, 1 English Sheila, 1 Italian archaeologist, another German bloke and me. Mat introduced us to the Australian animal world. The brown snake is actually the second deadly snake in the world and the most common in Australia. Thx for the little detail. One Aborigine once said: if Adam had been an Aborigine, he wouldn't have eaten the apple, but the snake….
The first day we were heading for the Flinders Ranges, a green, gras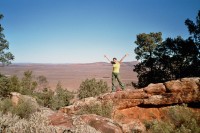 sy and hilly landscape. We saw all kinds of wild kangaroos, emus, cockatoos covering a whole tree (I mean, not the kangaroos and emus on the trees of course), again unbelievably noisy, some birds sound as if they had digestion problems. We left the main road quite soon after Adelaide for unsealed roads passing by cute little country villages. The first night was a luxury night, as we would find out later, in a container-like bungalow which gave us some kind of big brother feeling.
The next day, we were leaving for the real outback experience, the dirt ahead of us. After stopping at different places, ghost towns etc. along the old Ghan railway collected some of the old track wood for our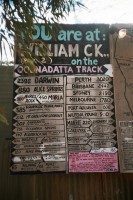 fire in the evening. William Creek was supposed to be the dirtiest place of our outback tour and South Australia's smallest town. We camped in swags (Australian thing: a bigger sleeping bag made out of a material like canvas cover with an integrated mattress) and sleeping bags, at roughly 0 degrees Celsius, in the red stony plains under the sky. At least, watching my trekking rucksack now, nobody will ever doubt that I have travelled, I will probably never ever get the dust out of it again. One other important thing I learnt was that you should always take a shower if there is one available.
Next day: direction Coober Pedy, the opal capital of the world. The town is dirty, dusty and rough, in the middle of the desert. That's why much of Mad Max II, Ground Zero and Stark had been filmed there. People there buy bombing licences to be able to make their own bombs to digger for opals. Once they have bombed the holes, they live in these dugouts, underground. Coober Pedy is aboriginal and means "white man's hole in the ground". It can happen that you bomb and end up in someone else's living room. In front of the underground church there was a sign: "no mess, father gone bush". We learnt about opal mining, had time for ourselves, chilled out and watched the locals, the first Aborigines I saw since I was in Aust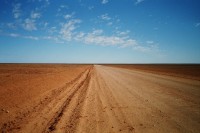 ralia. They were often drunk in the streets, but very friendly and polite. The evening should be the best party ever, we danced like crazy (the ones that have seen me dancing know what I mean, like crazy, including doing cartwheels and stuff) and had such a good time with the locals in the only club of the town. Just once I was a bit irritated, when an Aboriginal girl gave me a slap on my bum…well…maybe she misunderstood my mono-eyed permanent flirt-attack (due to eye disease) (-;…After camping we would probably have slept like babies, underground in proper beds, but the party lasted until early.
Nobody got taken by the mining fever, we all went to Uluru/Ayer's Rock the next day which we explored walking around, having breakfast there at sunrise and a glass of wine or beer at sunset for appero. I hadn't expected much, thought I have seen it so many times before on photos. But I was wrong. It was really fascinating to learn a lot about the Aboriginal culture around Uluru, with the paintings and caves. Although it
is flat and red like rust everywhere, it's different wherever you go. Even better was Kata Tjuta/the Olgas, where we had a proper morning bush-walk around the rocks and in the beautiful valley with many strange flowers that only occur at that time of the year. By the way: we had gone back to camping, and my sleeping bag felt cosier and cosier as it was bloody freezing. Just 3 of the girls slept in the bus the last 3 nights, but they had some kind of a paper sleeping bag. During the day it was 25 degrees Celsius though, and I was quite happy that I wasn't there in the Australian summer with 57 degrees. The last thing we did was a 4 hours rock-hiking in Kings Canyon/Watarrka. We skirted the canyon's rim overlooking sheers and passing through a maze of giant eroded domes, finally entered in the so-called "Garden of Eden" with tranquil pools. Fantastic! And finished the tour in Alice Springs that day…
Highlights of the tour:
• Have you ever seen a moon set on a horizon with nothing around? You will on these outback tours. Plus you will see a night sky in the middle of nowhere you have never seen before, an incredibly clear milky way, satellites, Southern Cross etc. And the best sunsets ever!
• Wild kangaroos, emus, dingos (wild dogs), strange birds
• Long straight streets like the Stuart Highway with eternal horizons without any bush, but great road music!
• Discovering honeypot ants nests while searching fire wood
• Cooking together and fun evenings around the fire having kangaroo BBQ
• A very personal guide (no, not what you mean) that showed us his favourite places off the main roads
• Ochre fields, huge mining holes, ghost towns, ghost railway stations, old telegraph station, lovely pubs in the middle of nowhere, salt lakes like Lake Eyre in the desert
• The best group ever with Sheila's that loved dancing as much as I do
• No news at all, just local news (my new hobby is reading local newspapers, like in Uluru: lost tourist 2 freezing nights in Kings Canyon, new use of dingo urine etc.), but the bush news worked pretty well for world cup news
• Australia is able to provide you with your personal records, like period with highest quantity of best showers of your life…
ALICE SPRINGS
Nice town in the very centre of Australia with a nice pedestrian zone, you can see the town in 2 hours. Had a last dinner together, and our guide told us that we've been among the top 3 groups and the first one to exchange e-mails. And I must say, it was brilliant, really the best group ever. We had another great party night…
PERTH
Flew to Perth the next day, gained 1.5 hours, getting closer to CET. Chilled out that afternoon, as I was just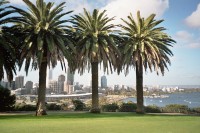 too tired from our last party evening; it was again till the morning hours. And I urgently needed to wash my stuff. In the next days made 3 tours.
First one to MARGARET RIVER region which is set to be one of the best wine regions of Australia. Popped into one of these groups where everyone is happy with his/her sandwich box and when you tell them to sit down, they just do it. Do you know what I mean? Of course I was special (-: ,brought my own food and was quite amused sitting in the back of the bus watching the show: "on your left hand side" – all the heads turned to the left, "on your right hand side" – all the heads turned to the right – you didn't even need a tennis ball for that. Apart from that, it wasn't worth it. I would either do it individually by car next time and see some more wineries or not any more at all as it didn't impress me that much. I mean, the wine is excellent, but the German wine route is so much more impressive and picturesque. Writing this, I feel like one of these German tourists that doesn't like anything that tastes different to Vienna Schnitzel or Bratwurst – you know those people with socks and their Birkenstock (well, I must admit that this w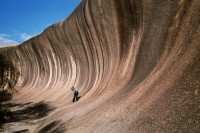 as also my breathtaking, sexy morning and evening outback fashion, okay, okay, okay). But I must take this chance to promote my beautiful region of Palatinate (Pfalz) a little bit in here because it is highly underestimated. I was told the Aussies liked the region around Kaiserslautern a lot during the 2006 world cup in Germany, and I understand perfectly!
Okay, next trip went to WAVE ROCK, a rock formation that looks like a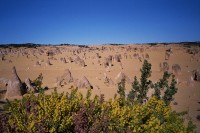 wave: that was fantastic, it's really worth it, stop in the beautiful town of York on your way, it's fantastic. On the way, again bush, a touch of outback, fantastic. The Aborigines here look more like Indians and are much more open-minded and share their culture with us, opposite to the centre Aborigines.
Last but not least the PINNACLE DESERT, a moon like landscape: excellent tour, a must on your travels through Australia, it's again fascinating, and much fun was the 4WD drive and sand boarding that day! And who told me about Australian winter? 30 degrees!!!!!
PERTH/FREMANTLE
The last two days chilling out in Perth and the suburb of Fremantle. Perth is lovely, good shopping; nice pedestrian zone with arcades. A highlight is the lookout from King's Park over the skyline of Perth. Decided to give up being a backpacker for the last days and treated myself with a massage and a lobster dinner in Northbridge, then chilled out in the Jacuzzi in the backpacker. Actually, there ARE really good backpackers, only the first one in Brisbane turned out to have been really crap. On my last day in Australia , Iwent to picturesque Fremantle, had seafood lunch in the harbour looking out to the harbour and walked around in the Fremantle markets.
SINGAPORE
Gosh!!!!! What can I say? Overwhelming, confusion, too many people, too many shopping malls, I didn't
feel like shopping any more – just tooooo much!!! Finally, it got better, and the town is really cool, and people very friendly. At least they seem interested when they are talking to you, I don't know if they really are…went to Chinatown, Little India, Arab street, bought an MP3 Player, got a top changed shorter, which I had bought in Fiji and on my last evening, had a delicious meal, Singapore Chili crab on the riverside with view to the lights of the town. Excellent.
THE SPECIES AUSSIE – a few thoughts
Their reputation is to be easy-going, the Aussie wants himself to be regarded as optimistic ("no worries" all the time). My and other's experience is that the Aussie is even that optimistic that he will explain the way to you even though he doesn't know it. The Aussie never says "I don't know". Somehow American…
Actually, the Aussies in the outback were the ones that really deserve their reputation to be easy-going and obliging.
Typical Australian conversation
-G'Day, mate, how r ya?
-Not too bad, mate, not too bad…
Just one thing to finish:
10 REASONS WHY YOU SHOULD GO TO AUSTRLIA AT THIS TIME OF THE YEAR (WINTER START) AND ALTHOUGH THERE IS WORLDCUP IN GERMANY:
1) Max. 5 flies instead of 10000000…covering you
2) 25 instead of 57 degrees Celsius in the desert or even 65 degrees on top of the Wave Rock
3) no problems finding an accommodation, just pop in
4) Australian winters are not German winters, no minus degrees, you shouldn't go to Tasmania though
5) More personal tours because of fewer people (up to 3 seats per person in a small bus)
6) Cheap flights, esp. out of Germany at times of world cup
7) Cheaper accommodation, cheaper tours etc.
8) Best time to see whales
9) Not so many tourists around
10) But the locals start travelling, so you can meet them!
____________________________________________
For a slideshow of the trip, click the image
(this one is Silke @ Wave Rock)
____________________________________________
One more thing…:
Although the national anthem of Australia goes like this, the "inofficial national anthem" clearly is:
____________________________________________