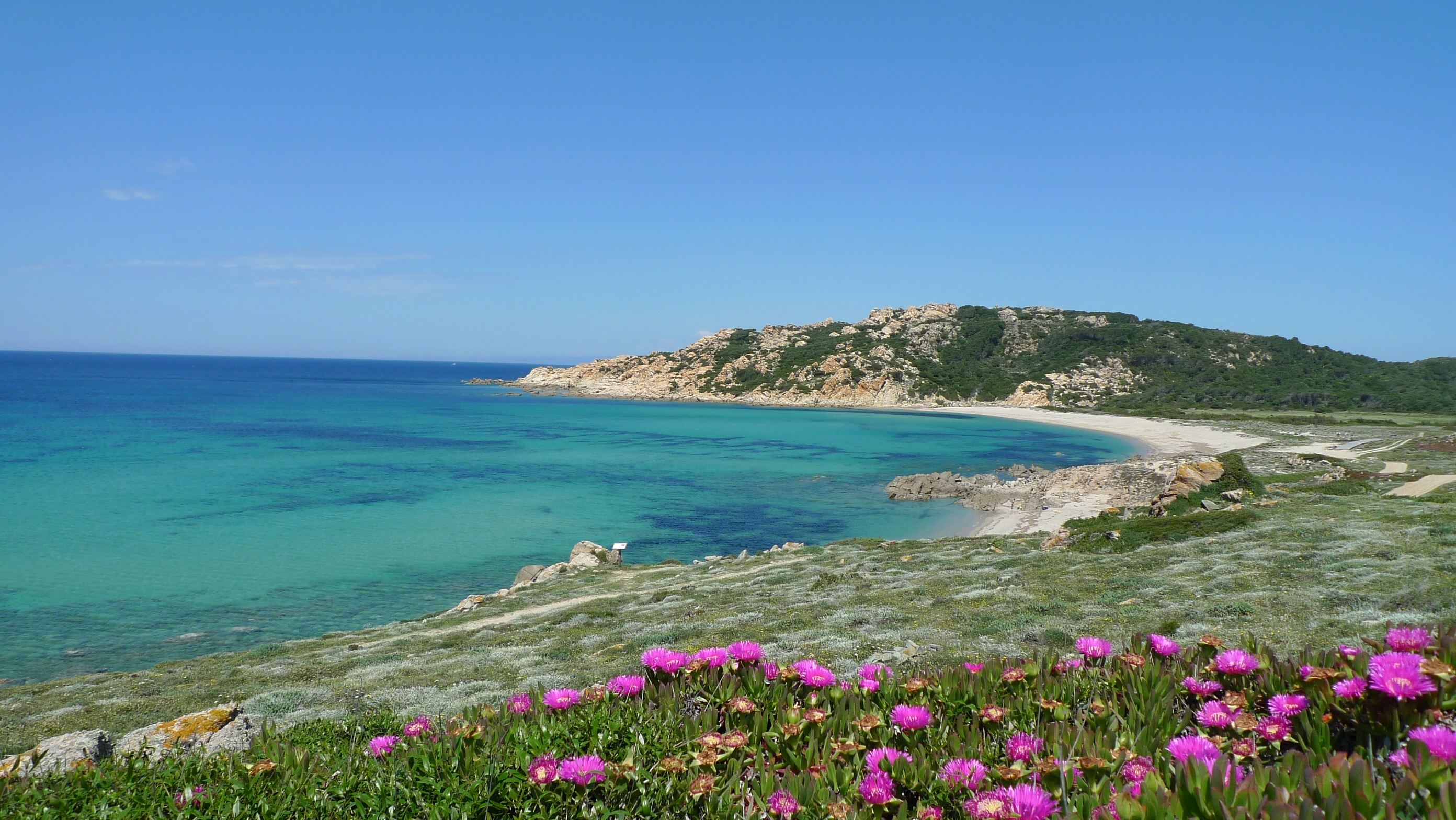 Wind; yeah, it does exist. These black sheep on the sea, also called kitesurfers, like the wind so much that they travel where ever they can get it. They put up with bad weather as long as they can get the wind. Of course, they also like the sun and high temperatures but above all they like wind. Sardinia has wind; lots of it. On the bring of summer when the sun is out and temperatures already in the higher levels but still too early for summer-sun-beach-tourists as the weather risk is still too high, Sardinia is a bliss for kitesurfers.
Wind is at home in Sardinia. Italians have even given it names. Their Majesties Tramontana, Grecale, Levante, Scirocco, Mezzogiorno (Ostro), Libeccio, Ponente and Maestrale (Mistral) get regularly support of thermal winds. Most of the time, the predominant wind forecasts significantly underestimate this. On top, the nozzle effect in the Strait of Bonifacio in the North and the cape effect in the Southwest amplify these winds.
The idea – Discovering kite spots for various skill levels and of diverse character in Sardinia. Our path will be designed by the wind which is most promising in April and May, but also in autumn. There is also a good chance to have lots of wind earlier during the year, but you should travel with thicker wetsuit at these times of the year.
The protagonists: A black sheep. An advanced beginner in kite-surfing, writing about the kite-safari. A New Zealander in Europe with kite experience (he kited 2000 km along the Brazilian coast, see www.yakers.co.nz).
Starting point: Pa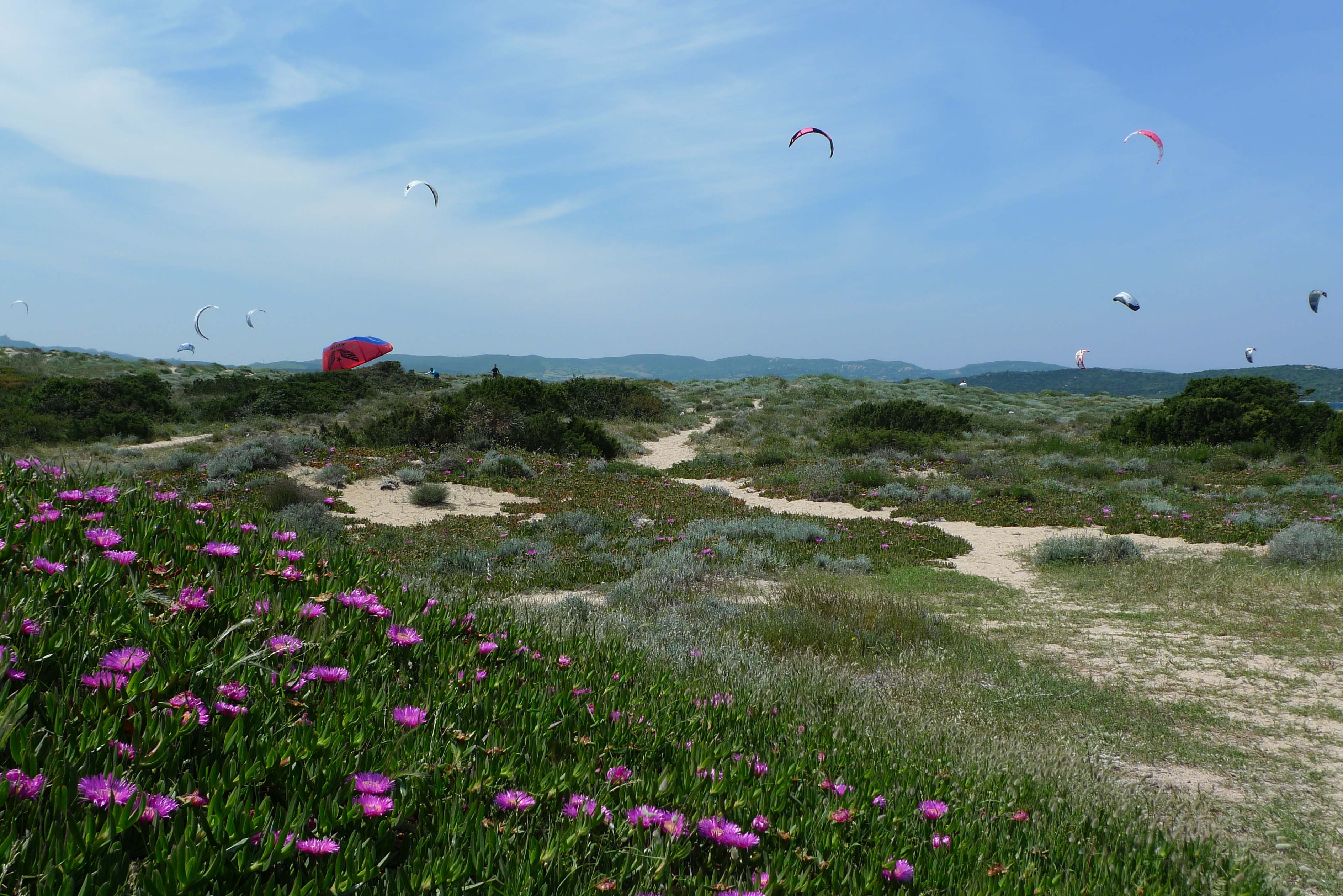 lau, location of pecora nera's editorial office. "pecora nera" is Italian and means "black sheep". The online magazine www.pecora-nera.eu shows the island of Sardinia and its residents from a genuine, outlandish and unsophisticated point of view – looking from behind hedges and facades with blacksheepish curiosity and a clear journalistic approach. Their articles mostly tell stories from the low season and for individual travelers with lively interest in the island, its people and sheep. Sincerity, fun and "la dolce vita" are part of the editorial concept, just as wool belongs to the sheep. This is why the magazine doesn't avoid writing about the continuous rain during the winter months or endless province streets and shows why this can even be a reason to fall in love with this little continent. The German version of my article about the kite-safari in Sardinia is available here.
So here we are. Porto Pollo, the kite mecca and main destination of most organized kite travels. With Ponente (westwind), Levante (eastwind), Grecale (northeastwind) and the nozzle intensification in the Strait of Bonifacio, the spot fits all skills levels and is a good beginner spot. A promontory separates wind- und kitesurfers, but both are sometimes tempted to try the other side. Onshore wind and chop are allocated to the kitesurfers, windsurfers have flatwater.
As Porto Pollo is very popular, you always find lots of surfer buses and campervans, home of whole families including d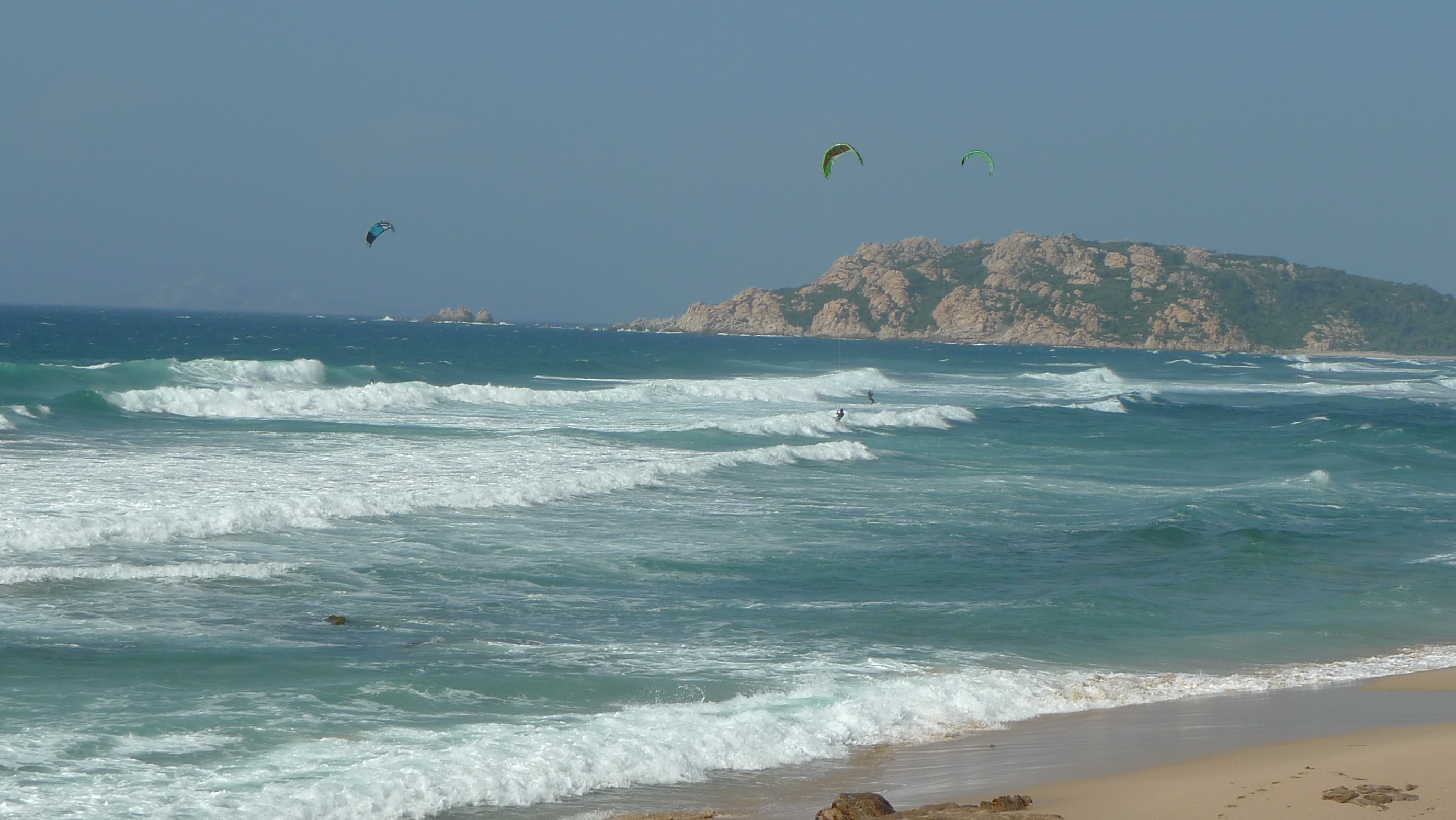 ogs. Dogs like people wearing wetsuits, kite on lines in front of them and equipped with a board. Fantastic target for barking at and wanting to play. Kite schools and bars provide a perfect infrastructure and holiday-surfer-feeling on the sand bank between the wind- and the kitesurfers. Watching the sunset in the evenings, happy, knackered and salty from kiting, having a Sardinian beer or wine and some appetizers that are often presented as a free "bar menu" in many bars in Italy.
The island opposite of Porto Pollo, La Maddalena, offers as much wind as its sister Caprera. But most of the coast is only accessible over the water and does not provide many beaches for launching and landing the kite. We have found the best kiteable beaches in Bassa Trinità. Reportedly, you can also kite in Nido d'Aquila. But apart from that, the islands themselves are worth visiting and a wonderful trekking destination for windless days (see silky-way's "Trekking in der Gallura" and nimp's article "mare nostro" ). The capital of the island is historically grown and is a good dining alternative to Palau, departure point of ferries to La Maddalena.
Back to Porto Pollo. Forecast: light Maestrale (northwestwind). As a matter of fact: at least 30 knots. Perfect conditions for the good kiters. But those want to see bigger waves in these conditions. Peeling out of our wetsuits, direction West. Scanning the coast.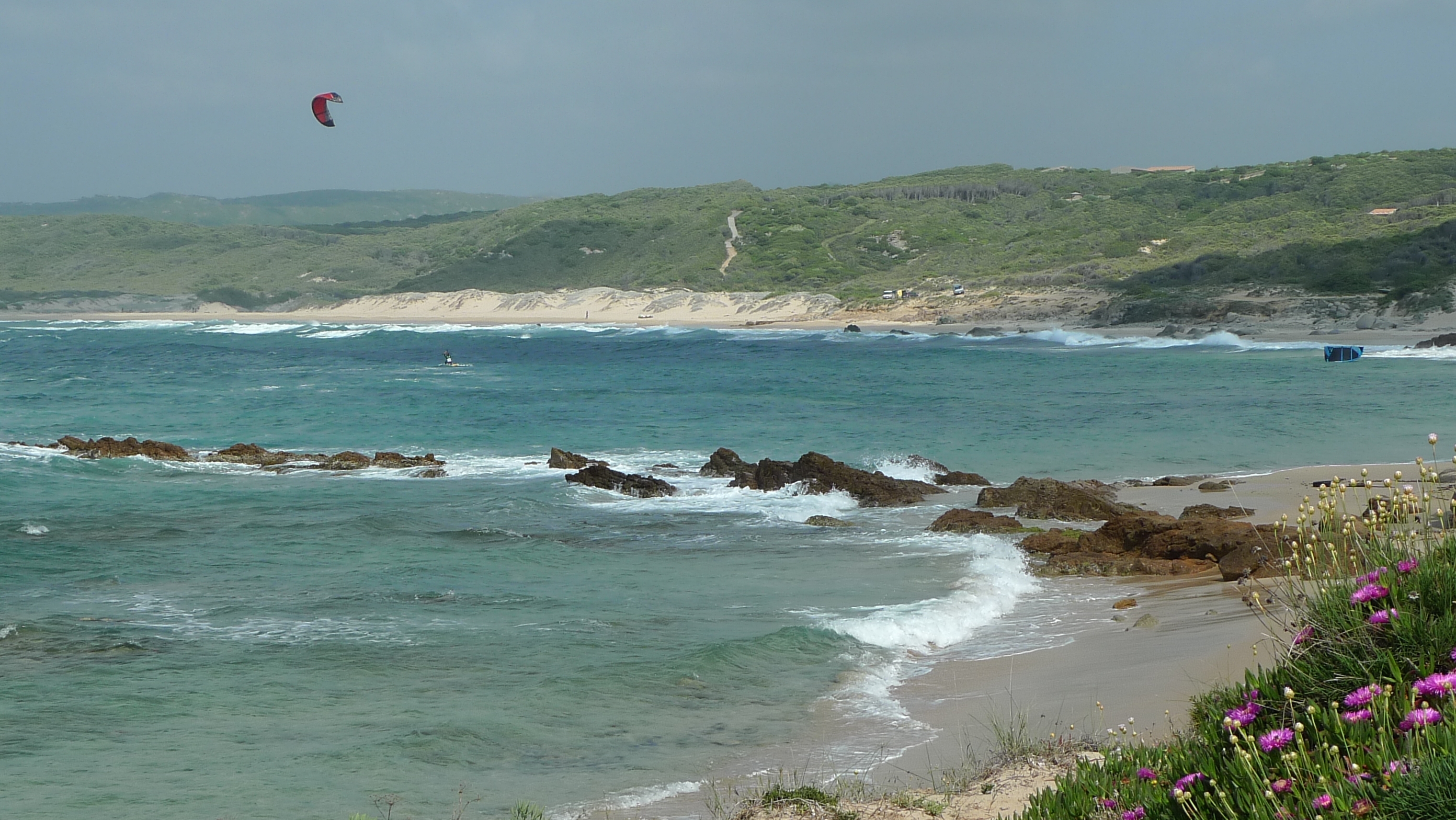 Then: Marina delle Rose, the potentially best wave spot in Northern Sardinia, West of Santa Teresa di Gallura, just before Vignola Mare. With Maestrale and Ponente wave kiters have fun. Before entering Vignola Mare, turn right towards the beach "Lu Litarroni". You arrive at a parking ground. The further passage route by car looks impassable, intensely covered by pot-holes and narrow, right and left a pine forest and a stonewall. But those who intend to kite or windsurf here won't be stopped to approach the sea as far as possible. Did anyone say you need 4WD? Not if kites and boards are the predominant part of your luggage. Close to the beach, the path turns right, along the sea, through a pine forest, over a 500 m long, stepped up wood path to the place that makes the traveler happy with a beautiful scenery of pine forests and multicoloured meadows. We felt alone. There: a Volkswagen bus, wetsuits in the trees, wind- and kitesurfers having some food after a session on the water. We drive further, fearing every second that a car tyre will miss the corner of the next curve. At the end the reward: kites. Lots of kites. Many waves. Some Volkswagen buses. The right place, blacksheepish for sure.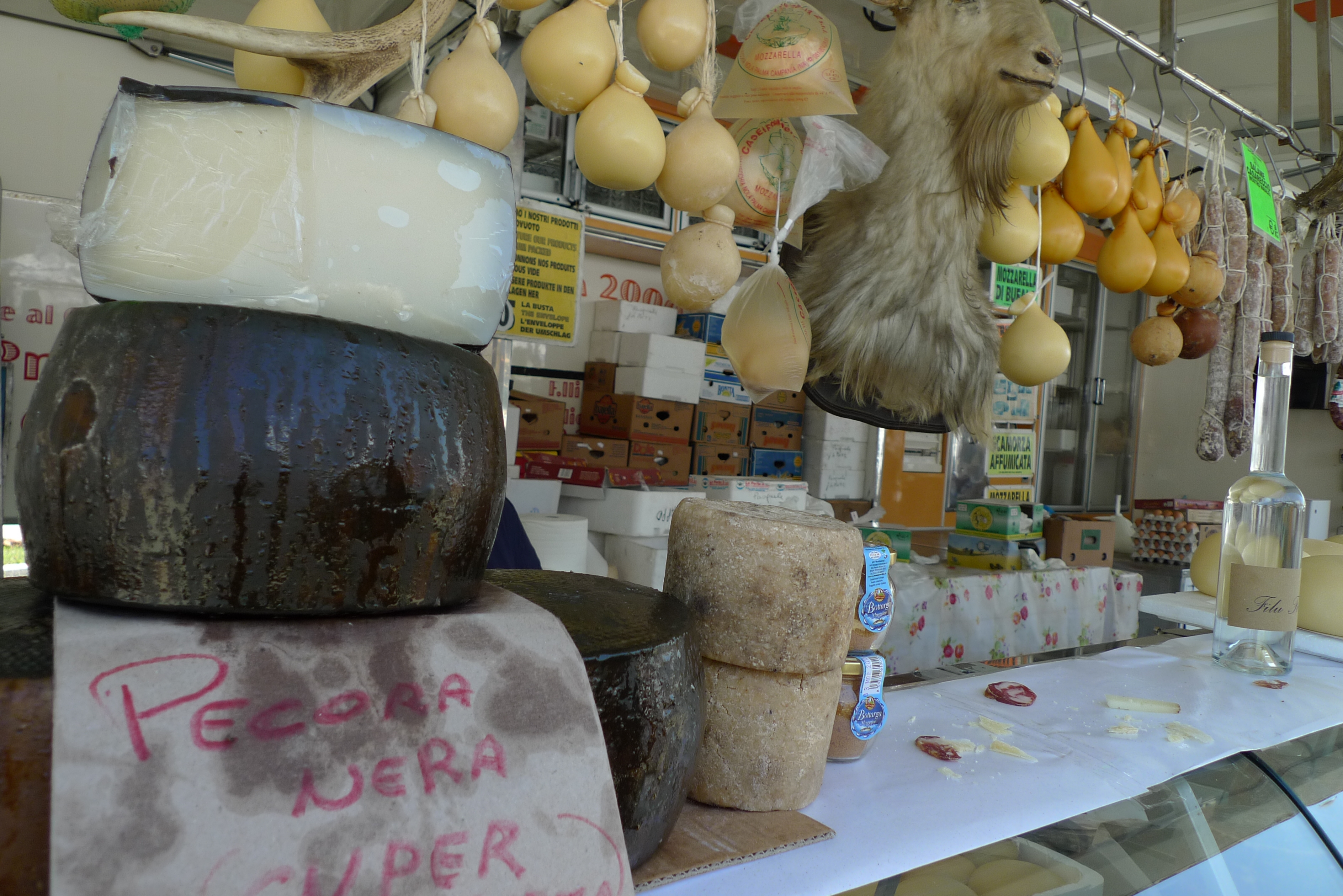 In Badesi Mare, the local kiters especially like Maestrale und Ponente. And close to the most northwesterly point of Sardinia, Stintino, all wind directions work. Unfortunately we didn't make it so far to the West.
On the way back to Palau: Santa Teresa di Gallura. A picturesque village, and a market by coincidence. Of course we buy at pecora nera. A visit at the hairdresser (it is difficult to find a bad Italian, ehm, Sardinian hairdresser) and an aperitivo on the central square make it a perfect day.
Vignola Mare: Arriving from North, it's better not to take the village access to the beach, but to turn right one exit before, sign "Spiaggia Chischinagghju". The parking ground is located at the best end of the beach to set up your gear. Grecale offers perfect beginner conditions. The beach is long and stretches up to Vignola. We meet plenty of the Italian kiters again that we got to know in Marina delle Rose. It's not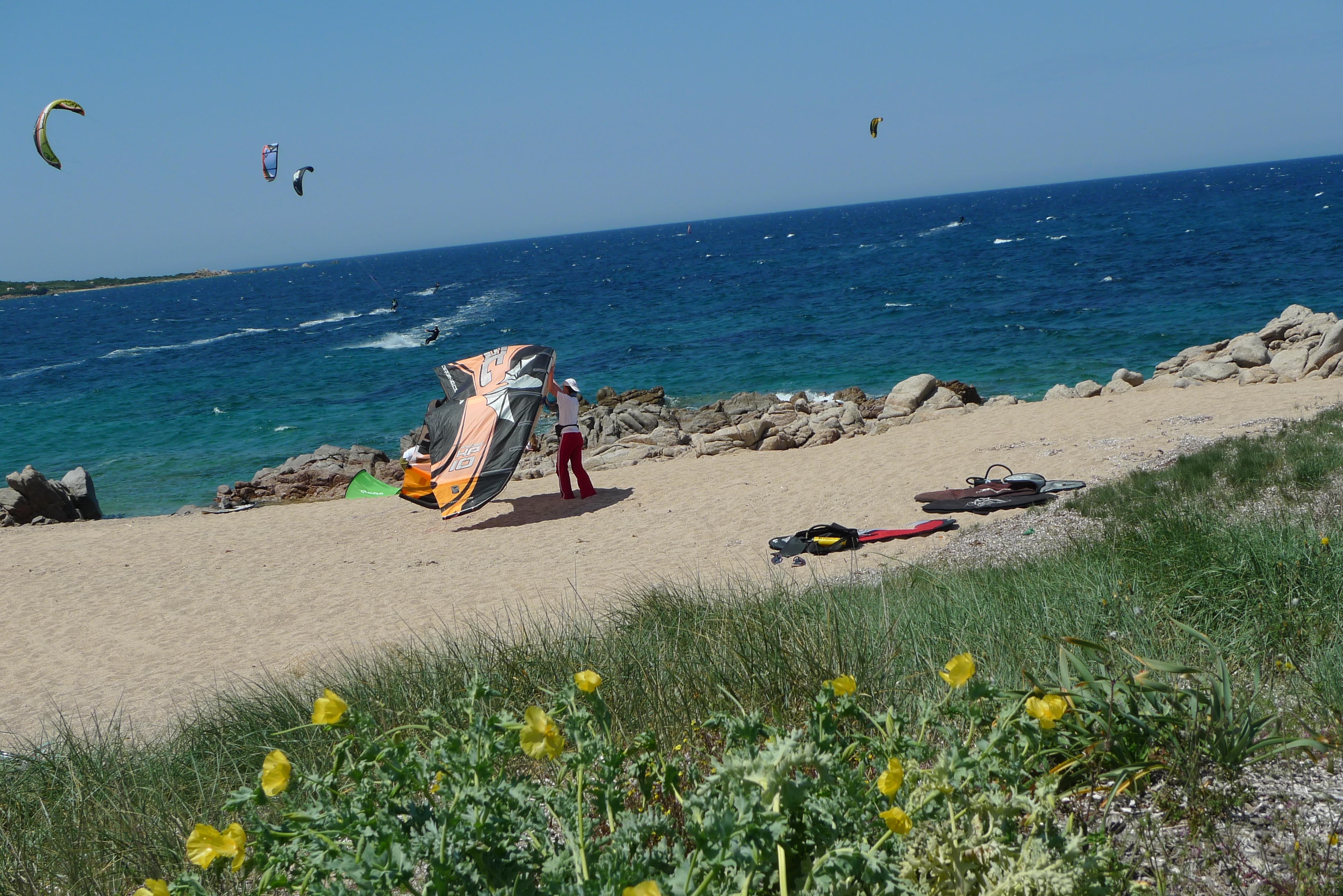 gonna be the first time to see them again. The Italian and local kiters are welcoming and always happy to help as long as the visitors are not too numerous and equally respectful and courteous. Another kiwi, that suddenly popped up on the island, put it this way: "Kiting is helping each other". No doubt: kiting is a brilliant way to get to know the people and the country.
It helps to speak a little Italian. But you don't necessarily have to know that "partire il kite" means to launch your kite. Italians perfectly understand the English version in broadest Italian: "launchare il kite". The typical gestures like "Thumb up" and double-knock on your head impeccably match the Italian and Sardinian body language culture. Putting this into action, locals won't hesitate to give many tips and recommendation while enjoying an after-kite-beer at sunset.
Scirocco appears, southeastwind. We are in La Cinta, east coast, a beach at the entrance of San Teodoro. Grecale equally likes to ask kiters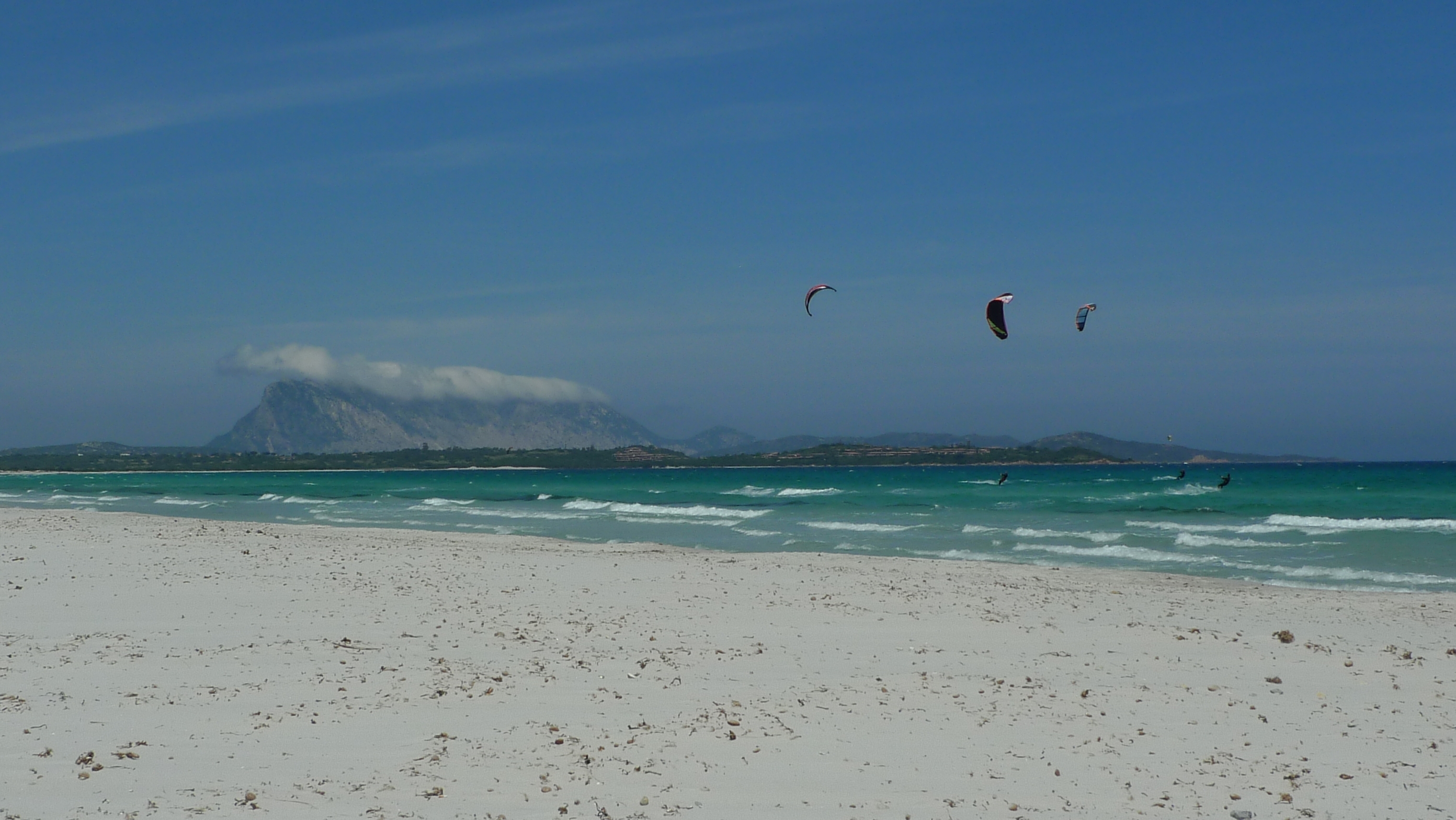 for a dance. It's a long and sandy beach like in Brazil, next to Petrosu. View on the significant Isola Tavolara, mostly topped by a cloud, which reminds us of Table Mountain in Cape Town.
Mentioning Brazil and South Africa: The more we saw, the more we were reminded of the following story: When God created the world, he had pieces left of each part, formed a nugget, threw it into the sea and tramped it in with his foot. Sardinia was created. There is a similar story about New Zealand. It's not surprising that our kitesurfing kiwi discovered mainly one country on the way back to the North via the SS 131: home. Why travelling to the other end of the globe, if there is so much world on-the-spot? But stop. Right now, we are still en route to the South.
Behind Posada: Mauritius. During the journey we get a tiny presentation of Sardinia's diversity: a polo tournament, a yacht exhibition, multicoloured racing cars on their way to a rally, several village feasts. Overnight in Cala Gonone. The place is imbedded in the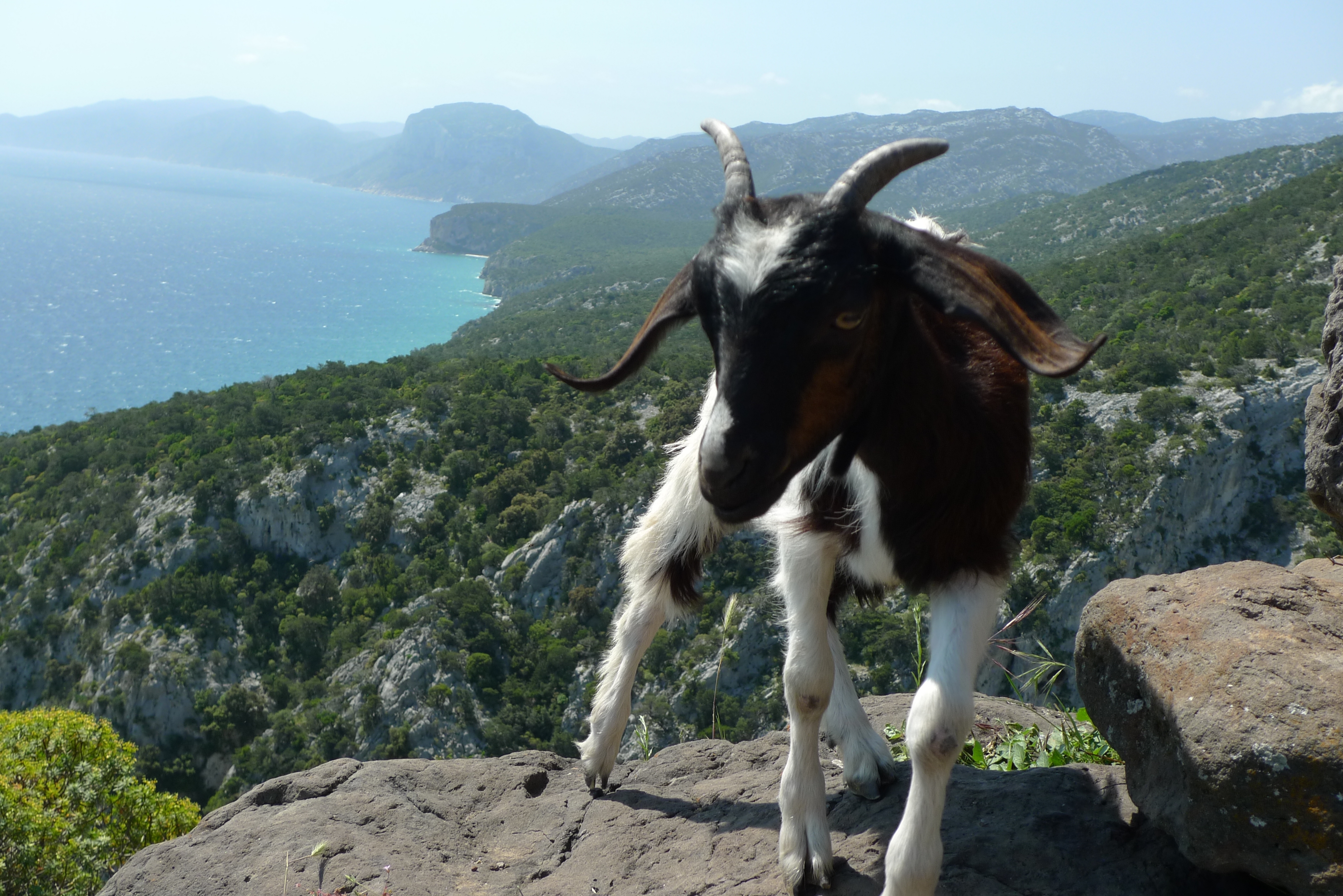 surrounding mountain scenery and North of the Golfo di Orosei with some of the most gorgeous beaches of Sardinia. A highlight: Nuraghe Mannu with goats on it, in it and around it. A unique nature spectacle in front of the steep and rocky coast.
Further South, the coast can only be reached over the sea, which means by experienced long distance kitesurfers, ehem, or by boat. It is impossible to access it overland, there are only mountains: We are travelling through the Sierra Nevada. A village like in the South of France: Baunei. Then we see the sea again. Near Tortolí we spot potentially kiteable beaches. Locals confirm later that Grecale is working there. Also Cala Liberotto looks inviting. Many landscapes remind us of Tuscany with its cypresses and vineyards. The coastline here sometimes gives a slight idea of Baja California in Mexico. Destination: Muravera.
Downwinder only in Brasil? No way! Grecale makes this possible southwards along the long beach "San Giovanni" (follow the sign in the South of Muravera). But Scirocco does a good job, too. The campground "4 Mori" is almost empty at low season. Drive through the campground up to the beach to pick-up the downwinding kiters. It's not only fun for pros and wave beginners.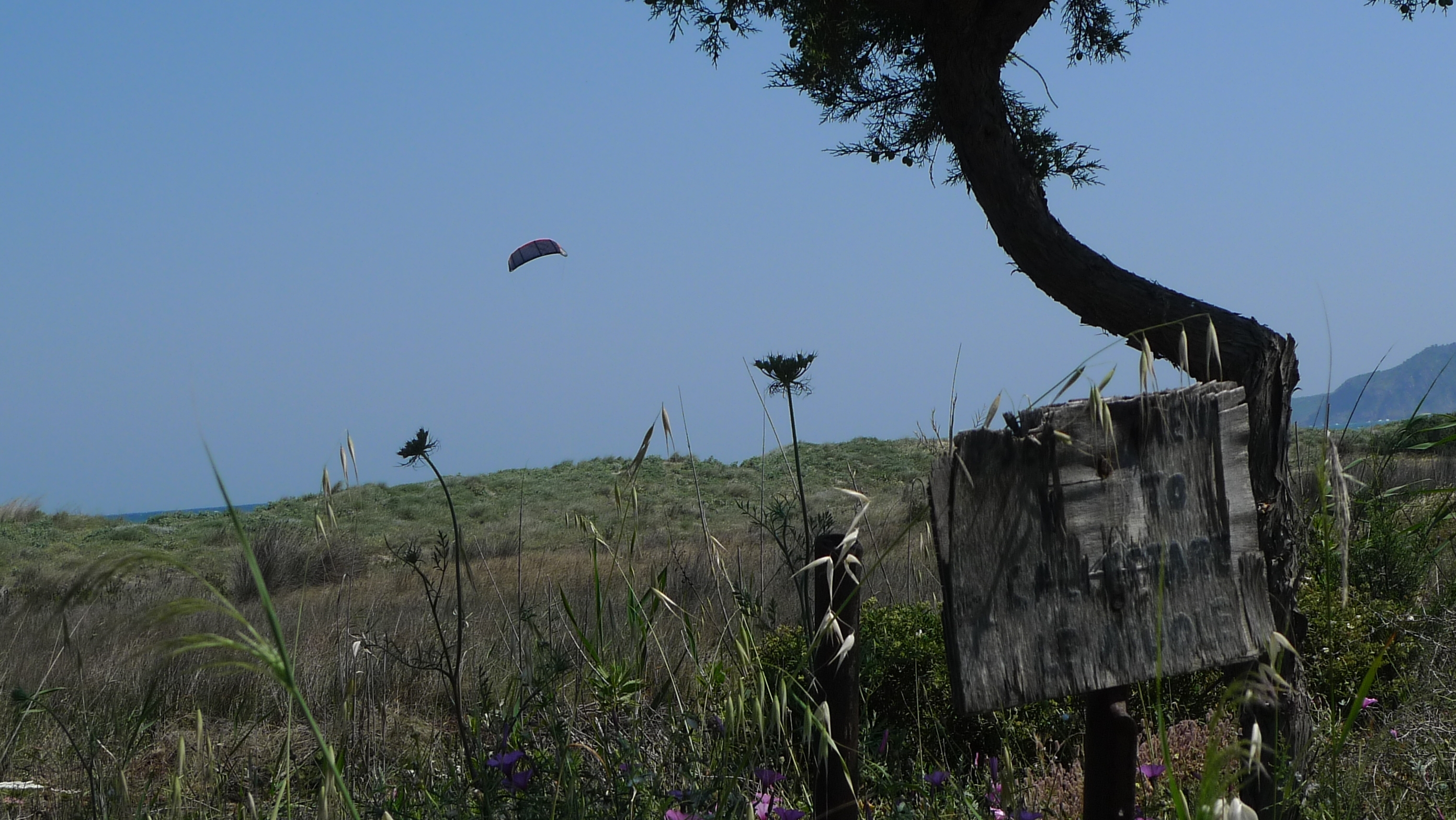 Advanced beginners who are still trying to stay upwind can also just "train downwind". It's recommendable to train further offshore if you prefer less waves. Doing this, you should be confident enough to keep your board with you or get it back at all times. Wave lovers that are keen on extending the downwinder will start having even more fun just after the ledge of Torre Salinas. By the way, in April and September, you can find flamingoes just behind at the Salinas.
We try to follow the downwinding kiters, find a street along the beach, find them and say hello. Trying to follow the beach, we have to stop at a dead end. Back to the main road, no sight of the kiters any more, next turn left, off-road again through plain countryside, along fields and over impassable paths. Still no kiters, but a sign: "Compendio ittico di Colostrai – Feraxi". It finishes at a river mouth half way down the beach. Back again. Some turns and off-road driving later, we find the last beach where landing the kite is possible before Capo Ferrato – and spot the kites. The pick-up-car-journey is at least as adventurous as the downwinder itself. And the downwinder can go on: Costa Rei, overpacked during the main season, can be discovered in a completely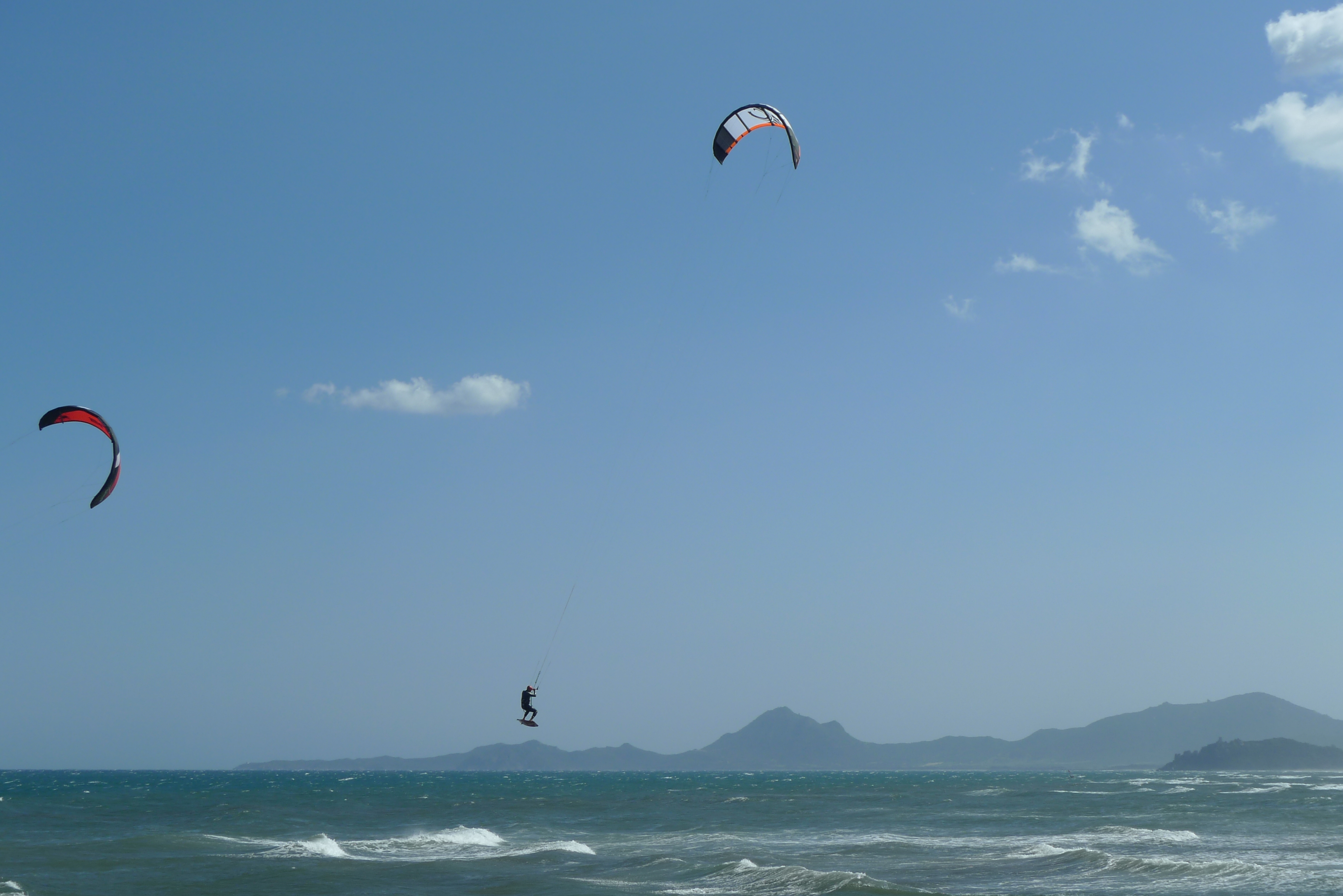 blacksheepish way when kiting and during springtime. Kiting is also possible in Porto Corallo, but we didn't view that spot closer. It might be the extension of our first downwinder northwards, though.
Next to San Giovanni beach, you find a culinary insider tip: Ristorante Marina Giò that offers – apart from the house wine – excellent Sardinian cuisine. Turn right at a little dirt track on your way down to San Giovanni beach. The restaurant is the last in the row. According to the number of cars parked in front, it is the most frequented one. Reservations are recommended for week-ends. As we find the first visit convincing, we come back with friends. The second evening, no more delicacies are possible after the main course. No chance: desert and mirto/lemon sorbet are served anyway, for free, due to a birthday on the table besides.
Next day: Chia. Caribbean beaches, turquoise water, blue sky, sun, wind. Spiaggia Su Portu: a bar, some people are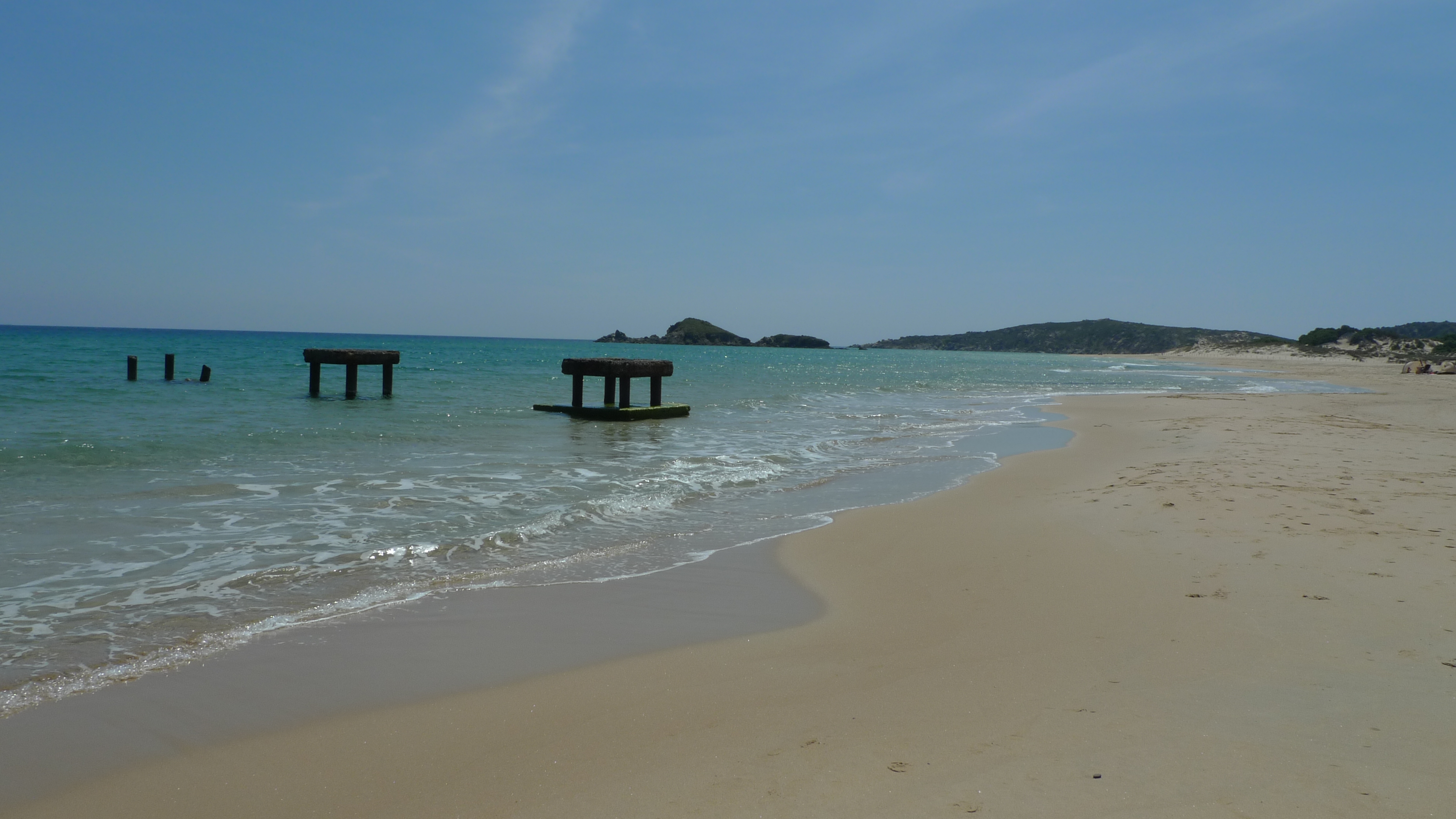 chilling. Relaxing atmosphere. No wind. We climb Torre di Chia in order to overlook the area: there are more beaches further South. More wind, more kites. The beach with more wind: Spiaggia Su Colonia. The beach with kites: Spiaggia Campana. Upon arrival: no wind. Kiting in Chia is best when Levante and Ponente come along, otherwise there can be a wind shaddow. We head back North.
Just before Pula, one single street is accessing the beach, direction campground. Beach Santa Margherita. With Libeccio (Southwestwind) you have perfect sideshore conditions. Even if the beach has less Caribbean flair, it's my favourite beginner spot, and a good freerider spot, too. Apart from that: Pula is worth a visit: convivial atmosphere, excellent food, typical aperitivo, free wifi on the central square. A tip from the locals: If there is no wind anywhere in this region, there is still a chance to find some in La Maddalena, South of Cagliari. The beach is not nice, but thermal winds provide kind of a wind guarantee.
There are several kite possibilities east of Cagliari, apart from the well-known, urban long sandy beach Poetto. We find a beach at the end of a field path on our way to Geremeas. No other kiters, but fishermen, runners, beach lovers.
La Caletta near the historical village of Posada: there are several parking possibilities South of the venue close to the pine trees. Scirocco provides some chop and also good conditions for beginners. The background: pine trees, long and sandy beach. Some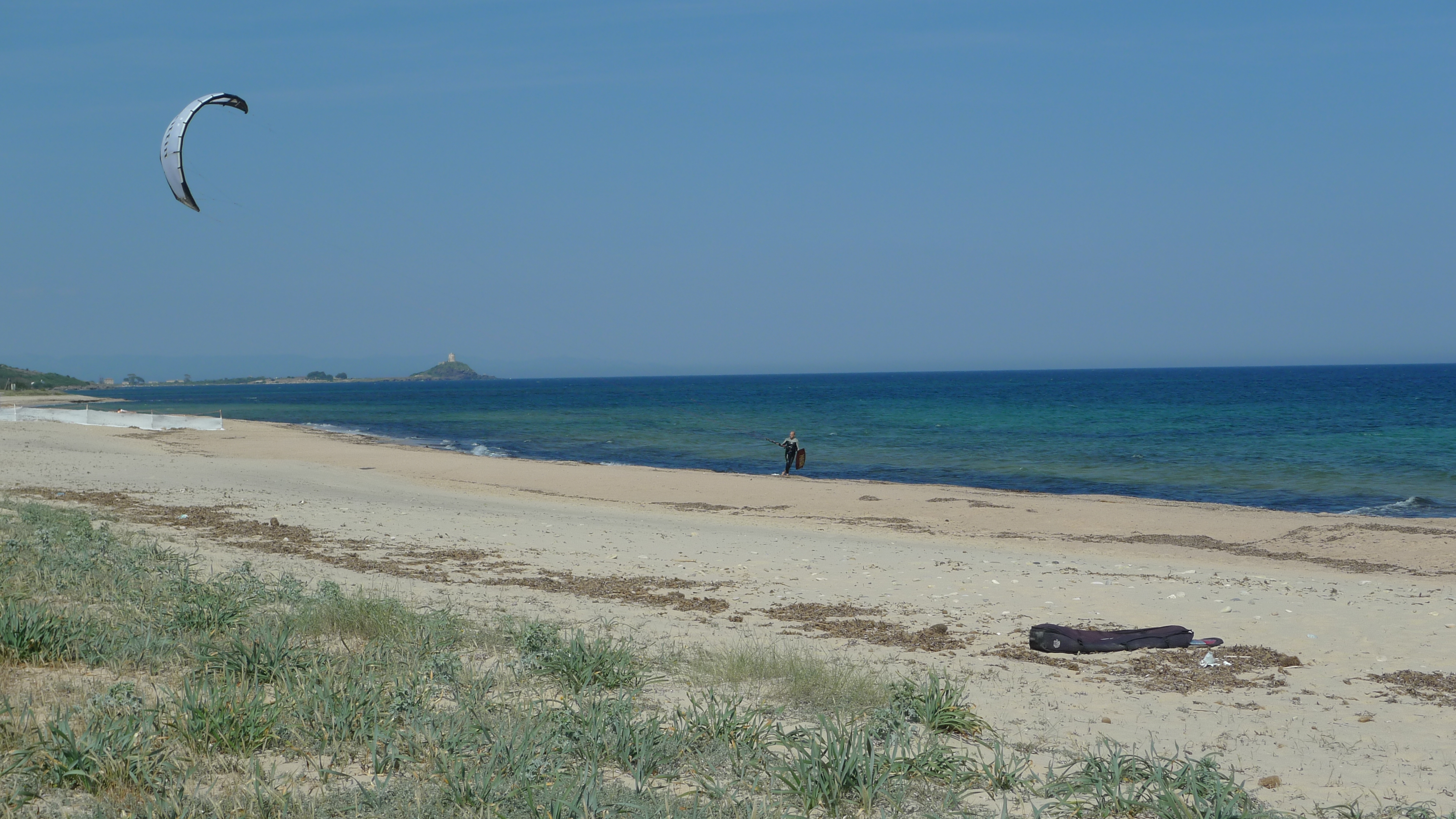 shops make us guess that La Caletta is normally more touristy, at low season the village is rather Sardinian-sociable.
The West Coast is an alternative for the way back North. Some recommendations of locals: In Is Solinas near Porto Botte, Maestrale provides flatwater. In Fontanamare, locals find waves with Maestrale und Libeccio. Maestrale is also the wind of choice in Mari Ermi. At Capo Mannu winds from West to Northwest provide the best wave.
If you stay in one place, it will be hard to escape windless days. Even Porto Pollo has days without wind. You can either profit from those days to discover Sardinia otherwise, by bike, hiking or by boat on rivers, or you follow the wind. In this case it's eminent to be able to assess wind and weather like our kiwi guest that has made this his expertise. Wind? In Sardinia? Yes, we had wind. Lots of wind. There is always wind somewhere in Sardinia.
We also travelled around the world. At least partly. Sardinia is just too big and diversified to get to know the whole globe with just one visit.