This time trip to México: different from all the others I have done. And I must say that México wouldn't have been my first choice at the moment, just because it didn't seem adventurous enough, but my friends Annegret and Robert are living in México at the moment, so I thought it's THE time to discover this country and visit them. But before arriving there, again backpacking, my favourite…
YUCATÁN: CANCÚN/TULÚM
I flew into Cancún from Hamburg via Frankfurt and México-City. Got to know Marilyn in México-City who spontaneously shared the taxi and room in the backpacker hostel in Cancún I had booked in advance (arrival time was around 1 a.m., and México having a reputation as being very dangerous throughout the night I thought it would be a good idea to have taxi and bed ready after no sleep for ages). And she also spontaneously decided to come with me to Tulúm after only a few hours sleep because Cancún is – as I had expected – only a Walt Disney like retort town. But we took our time to have a beautiful backpacker's breakfast I h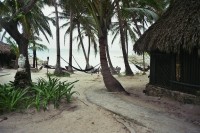 aven't had for ages: coffee with whitener, toast, butter, jam. And this Mexican thing called Cajeta which is basically caramel, just prepared with goat's milk. Really basic breakfast, but that's exactly what I was looking forward to during my backpacking part. Going back to basic. We had a long chat with a tour guide, Bianca, who had a couple of days off from organizing what I would call organized individual tours. We recognized her as something being alive in the other bed in the dorm that morning. During night, we had thought we were the only ones in the room. During the breakfast we had a very interesting chat – good start to being unorganized.
Tulúm village is very nice, but we decided to stay on the beach side and see the Maya temple of Tulúm, beautifully embedded into Caribbean sea-side atmosphere, to end up the day with a cocktail on the beach. In our cabana (hut), 5 meters away from the Caribbean turquoise water, I was able to hear the sea, feel the sea breeze and see the palms from my bed. Like honeymoon just without man. Open showers for everyone, brushing teeth open-air. Tulúm Maya ruin is beautiful, but will not take you more than two hours to visit. The seaside hostels are only a 20 minutes foot walk away from it. Tulúm village a couple of km though, you have to go by taxi.
YUCATÁN: CHICHÉN ITZÁ
The bus from Tulúm left too quickly, so we had to skip our wonderful breakfast in Tulúm town, and I had diet coke and crisps on the bus. Well, this is all about being not organized, but I just love it and enjoyed my breakfast like a gourmet one. Fell out of the bus next to the ruin site, but had to find a hostel first in Piste which is a small village a few km away.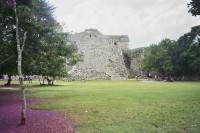 Took the one I had found in my Lonely Planet. As always, I had planned this holiday out of season so that it was not a problem at all to go wherever I wanted to go, always get a seat on a public bus and find a bed somewhere. Spent the rest of the day in Piste but there's nothing really to discover, the village basically lives from the famous Chichén Itzá. But had a very nice conversation with my French room neighbours, who had about the age of my grandparents, in the late evening hours – in French, of course. They would eventually follow me throughout a short part of my trip. Next day Maya ruin, quite impressive, but of course many tourists because it's one of the most famous sites in México. There are lots of things to discover all around in the forests and stuff, really nice. But I think I am a bit spoilt now, didn't find it as exciting as Angkor Wat in Cambodia for example.
YUCATÁN: MÉRIDA/UXMAL/CENOTES
Met the French couple again on the second class bus (never recommended for security reasons). Mérida was supposed to be a nice colonial town, and it was, quite small though. Didn't know exactly what to do there, where to go next, what to plan… I thought about seeing some ruins, leaving the next day to Campeche to plan a trip to Calakmul ru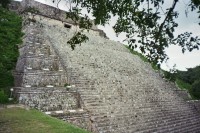 ins. But didn't know how long to stay there. Finally decided to skip Campeche, stay one day longer in Mérida to go snorkelling in some Cenotes (grottos). Plus the backpacker hostel was so nice. I slept in a 20 girls dorm, but we were just 3-5. Very helpful personnel, welcoming, individual. As well as the tours you were able to book there. Went to Uxmal ruins, also for the light show in the evening, it's worth it, although my Spanish wasn't good enough to understand everything. The Cenotes were even better. Reeealy individual organization. We drove into the Mexican jungle with a small VW bus, ending up somewhere. Looking closer, there were these wholes in the earth, giving sight to – again – turquoise water wholes, surrounded by jungle plants, stalagmites and stalactites. Through the clear water you were able to see the bottom as if there was no water. It was a gorgeous swim and snorkel in there, really enjoyed.
YUCATÁN: CAMPECHE
Finally decided to change plans again and go to Campeche anyhow as a nice couple told me it would be worth it. It's a really beautiful little town, but decided again not to go to Calakmul as too far and I had an ear infection. Met the French couple again near the market where I was chasing for some fruits and vitamins. You get really nice fruit salad to take away in México, with a flavour of lemon and chilly, really nice. You can also find lots of Pirate stuff here in Campeche. The beach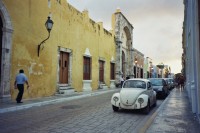 promenade is without beach and seems to be like really American to me (although I've never been to the US), and there are lots of Amish people around, many more than in Mérida. Forgot my camera on a bench on the main square, recognized that during the famous sunset, run back, not there any more. Asked a guy I had recognized before who told me that a police man had taken it. Searching for the police man on the other side of the square, about 5 men wanted to help me; one of them stopped a police car and told the police man inside that someone had stolen my camera. Confusion. I told them that stupid me had actually forgotten it, police guy from the police car got very vital again, stopping a police man walking around. They talked, and instantly, that police man took my camera out of his jacket. I couldn't believe it. I would never have expected this in México. One of those 5 men told me: "You know you are in Campeche, people here are honest, unlike people in the rest of México." Well, that's what I had been told before by people I had met during my travels: people in Campeche are different, honest and proud of it.
YUCATÁN: YAXCHILÁN/BONAMPAK
This was a looong trip on the public bus, and these buses with their air condition really made me feel sick and caused my ear infection. Horrible! Stayed in El P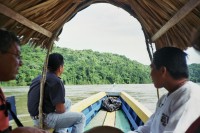 achan, a little alternative village between Palenque town and the ruins, in a jungle hut. I really liked that spot, full of alternative people in the middle of the jungle. Internet on a tree house in the jungle…Booked a trip to Yaxchilán and Bonampak near the Paraguayan boarder although I didn't feel great. That trip was finally how I love backpacking. VW bus with a small group of mostly Mexicans, then boat Yaxchilán ruins – no other way to get th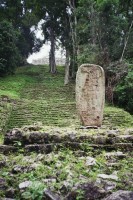 ere. And these were really the best and most recommendable ruins on the whole trip because they are really original and wild in the middle of the jungle. Just lovely. Bonampak is primarily famous for its wall paintings. Quick view on the group: really nice and only Spanish speaking in general, I was impressed by the Mexican girls wearing their full rain-consisting raggery even on a boats trip in the jungle. Also there was an Italian couple, him being so proud of his Spanish that he jumped out of the bus on every single stop – even if we just stopped to pay a bill to get through – to practice his Spanish. But he turned out not be able not to speak anyway, so I'm not quite sure if it was really only because of his good Spanish skills. I wonder he didn't get off the bus when we were stopped by one of these black-dressed machine guns wearing police like looking groups. Well, the trip is the most recommendable from all Yucatán trips.
YUCATÁN: PALENQUE/AGUA AZUL/MIZOL HA
I liked Palenque ruins better than I would have expected after Chichén Itzá. It's really great, just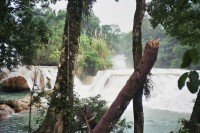 don't follow official guides but climb wherever you can go, outside the usual paths. It's worth it. I met the tour guide from Cancún again on a "collective" (little bus shuttle for local people and those that like to get to know their ways of living). Enjoyed to have a chat again! I also liked Agua Azul and Mizol Ha more than I had expected. It is very touristy, yes, but the clear water, in which you can have an unforgettable swim is just fantastic. But the swimming level in Agua Azul is not the only thing you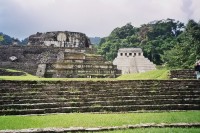 can see. If you follow the way besides the river up passing one pitoresque cascade after the other, it takes a while. On your way typical Mexican food prepared by locals, delicious fruit juice squeezed out from super-fresh oranges, lemons, grapefruits etc., little local villages besides the walking path if you go far enough. Mizol Ha is a very high waterfall: you can also swim in the little lagoon underneath and walk behind the cascade, but there is not so much to discover than in Agua Azul.
Around MÉXICO-CITY: TOLUCA
I wanted to take the public bus from Palenque as usual, but there was only a night bus, so I wouldn't have seen the landscape anyway. So I decided to drive to Villahermosa the same evening to take the flight directly to Toluca the next morning. This was the start of my seeing-friends-part. My friends Annegret and Robert are staying in Toluca, living an expat live at the moment for 3 years: bye-bye backpacker live, change of point of view. Expats are living in areas among the super rich Mexicans, the so-called "condominios", so I had my own room and bathroom which I really enjoyed. But it's always hard to give up being a backpacker. They all have their own muchacha, who is a live-in housekeeper most of the time with at least an extra-room, but also an extra little hut/house is usual. There was a party every evening, one with Robert's team in their house, others at other expats' houses. During the days, Annegret and me just relaxed, slept and drove to different very nice villages in the area. Tried Mexican Tequila which is so different from the ones you can buy in Europe, really delicious.
The first day, after my arrival, still very tired. First direction was this crazy traffic in México-City. This is normal. We went to a restaurant in the business area to have lunch with Annegret's ex-colleagues: a Spanish, an Argentinean and a Mexican woman. The best clothes backpacking Silke had brought were some jeans and a T-Shirt and vest, a jumper and a rain coat. I was terribly underdressed. But enjoyed my first proper meal for ages anyway: Medium rare Argentinean Beef. Yummy. The girls, or should I say young women, very nice talking to. As usual, I was able to speak quite a good Spanish, but didn't understand the answers. Well…
Afterwards, we went to the German Embassy for an acceptance of an association called something like the German Business Woman. Interesting point of views, but rather surprising for Annegret and me because not from this world. We were tended to ask ourselves if the German representative had ever been moving around México as a normal person, and what kind of business these women used to be engaged in. Well, to make a long story short: we were just surprised: business women would probably not have to join a network called like this.
Around MÉXICO-CITY: METEPEC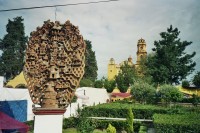 Very nice Mexican village, suburb of Toluca. You wouldn't get there as a tourist, but it's worth just walking down the streets, shopping artisan aria and handicraft (I even bought a painting I was carrying around during the rest of the trip). Another anecdote: forgot my sunglasses in the shop where I bought the painting, and got them back. Unbelievable again…México's bad reputation is definitely wrong!
Around MÉXICO-CITY: MALINALCO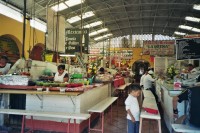 Country residence of rich Mexicans and really picturesque village. Nice little streets, bars, cafés, a big market, lots of horses and some burros crossing our way. Much less chilly than in México-City and Toluca. And it leads through a wonderful landscape.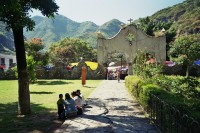 Around MÉXICO-CITY: TEPOZOTLAN
Again a very nice little town, worth walking around. We had lunch in one of these typical Mexican markets, one of the nicest ones I have seen during my hols.
MÉXICO-CITY
Everybody talking about México-City being the most dangerous place of whole México, I was prepared to the worst. But just prepared, which didn't prevent me from doing anything I would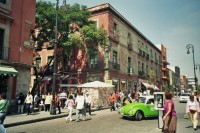 have done anywhere else, of course. Got in by public bus from Toluca and even took the tube/underground. No tourists around. All went well. You probably have to take care and not underestimate the danger, but it is definitely overestimated when it comes up to recommendations. I loved the town, it's really worth visiting. It was hard to compass the Zoloco though because it was ahead of the day of the dead, but that was a nice experience, too. I really loved the Casa de los Azulejos, really nice ambience, just had a coffee and a bread of the dead and read about Méxi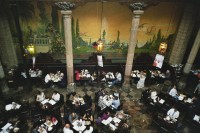 co-City. Also found the mariachi around Plaza Garibaldi exciting. The Casa Azul from Frida Kahlo and Trotzki are veeery interesting, too, a must. Apart from the sights, it's just a modern, lively town with everything you need and does not seem dangerous at all during the day. As a said: it's worth it and really nice. On my way back, I must admit that I was a bit scared as I entered the tube after sunset and took the bus from México-City back to Toluca in the dark as well. The bus went through some slums or so, for sure some secret path to avoid the horrible traffic. I hesitated if I was on the right bus. Thought backward and forward if I should a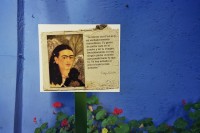 sk or if I would reveal myself as a person with no orientation at all. I finally asked and got the confirmation that I was on the right bus. I recognized some buildings and tried to call and txt-message Annegret and Robert. Well, apparently, txt-messages to German numbers worked without any problems, but not to Mexican numbers. Good moment to discover this. Oh shit, would I find the way home? Walk in the dark? The Mexican man in front of me had a blackberry. Asked him, he called Annegret's number, they picked me up at the station. The Mexican man even didn't want a peso. Another example: México is not as dangerous as its reputation, but you should take care anyway. As you would probably do in Sicily or Naples, too.
EXCURSION: MEXICAN DRIVING
Signs and signals do not have any meaning. Traffic lights only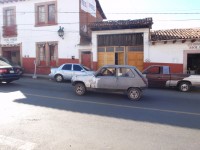 make sense with an additional policeman, better 3, to conduct traffic. Also the beacon has no meaning or at least not as it would in Europe: Mexicans put it when rain starts, when they see another car standing on the side-strip, or just for fun. But probably this is just a means to drive in whatever way and not to take any responsibility about not watching. Movements are rather erratic and don't follow any logic (this is a German girl's point of view(-;). Lights in the nights are negligible. Mexicans also don't tow cars, they push them.
CENTRAL HIGHLANDS: PÁTZCUARO/ ISLA JANITZIO: DAY OF THE DEAD (Dia de los Muertos)
This is supposed to be THE place where to spend the most important Mexican day, Dia de los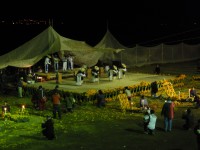 Muertos, day of the dead. Lots of ceremonies, Folklore theatre and dances, nice and fresh fish, especially on the Isla Janitzio in the middle of the Lago de Pátzcuaro. Just wasn't able to take any pictures any more as my camera stopped working. Will have to have it repaired when back home. Could cry because of that. Pátzcuaro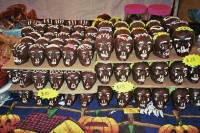 is a really nice Colonial town, so sweet and worth visiting. I recognized that I liked México more and more since I had arrived at Annegret's and Robert's. This was a completely different part of México, and I loved it much better than touristy Yucatán. Yucatán is not bad either, but finally the diversity made it. And I really love the Colonial towns and Baja California, just keep on reading.
EXCURSION: MEXICAN'S HANDLING WITH THE DEATH
Death is a natural event during life, dead people remain among us. Life and Death are completely in God's hands. F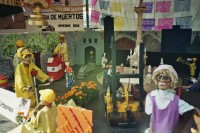 or Mexican lives, this means that they are just not able to influence anything and consequently take no responsibility. As God wanted it the way it happened. Opposite to the aggressive driving style, they are not willing to discuss and give or accept criticism during work life. They never make any defaults because God wanted it to be like that. They are not responsible for anything. But also, they would not hesitate a second to stand in the invisible part of a motorway curve to make the curve visible to everybody else. If God wants them to die, they would eventually die, no matter if it was in this curve or somewhere else.
CENTRAL HIGHLANDS: MORELIA
Robert's colleague Marcus dropped us off in Mérida, which is a reeeealy nice Colonial town again. Just lovely, easy to imagine to live there.
CENTRAL HIGHLANDS: TLAQUEPAQUE
Tlaquepaque is near Guadalajara, and as we would take the plane to Los Cabos/Baja California from there and Tlaquepaque was closer to Guadalajara airport than Guadalajara itself, we stayed there. Plus: again such a nice Colonial town. I really loved it. Saw Folklore dances again while having dinner. If you need really nice, tasteful and at the same time extraordinary design stuff for your flat or house, you should go there, I bought too many things again and decided to come back next year to buy more and fill-up Annegret's and Robert's container before they come back to Germany.
BAJA CALIFORNIA: LA VENTANA
We flew into Los Cabos and rented a car to go to La Ventana. A really calm, peaceful tiny village in the South of Baja California which I had chosen to go kite-boarding. There is basically nothing else then beach, sea, sun, k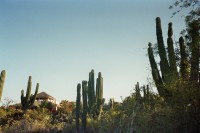 ite-boarding and wind-surfing. We drove through a nice part of Baja California which has a really impressive landscape: huge cacti everywhere. Sooo special. Hot all the time and sunny, great wind in La Ventana. Really got into it again, had a brilliant Canadian kite teacher. Safest place ever: I stayed at Kurt's, an American pensioner, who had his high-tech kitchen and office open-air just covered by a straw roof and with no walls. Everyone welcomed to use his Apple computer at any time…
The first day, after only 3 steps into the sea (sea, I'm coming!!!), I got stung by a sting ray. I felt something move quickly at the bottom of my food and then as if someone put a tacker into my food. I watched: lots of blood. Felt something like poison in m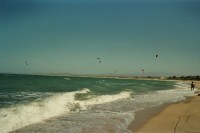 y leg. Thought: This cannot have been a stone. But was sure it was nothing serious. That was just out of question from my point of view. Arnaud, a kite teacher and Kurt, my landlord, identified that it had been a sting ray. It hurt like hell with waves of poison going through my leg. I had to shout regularly on poison waves. Put my leg in very hot water, as hot as I was just still able to afford. After an hour: anything happened? Nothing left of the pain. Was told that sting rays are quite normal there. So it's better to scuffle into the water. Difficult if you just wanna jump from the board. And, of course, I went into the water like a stork like most people would do.
Well, looking back, I can't believe how much I have seen of México although the time was far too short. There is still so much to see because the country is huge. But there is much more to see than just Yucatán, actually I preferred everything else. Climate changes a lot throughout the country, from tropical Caribbean crossing chilly highlands to dry Pacific coast. Also food changes a lot: Patatas saladas (taste like crisps, very delicious), fruit with chilli and lemon juice or cold seafood soup is typical for Yucatán, but you wouldn't easily find it anywhere else. As far as I have seen, because, as I said, I have just seen a bit although I have seen a lot. And: I especially liked the Mexicans. They are really nice and friendly and have a natural and open smile. They don't deserve their reputation.
____________________________________________
For a slideshow of the trip, click the image
____________________________________________